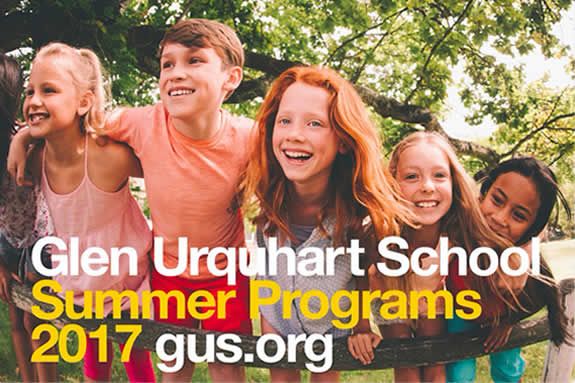 Glen Urquhart School summer camp returns with all new programs for children 3–13 years of age. We invite you to enroll your child in one of our fabulous Summer Enrichment Courses or to enjoy a week or more of our Day Camp.
All SUMMER@GUS programs provide bus transportation from the following communities: Beverly, Boxford, Danvers, Essex, Gloucester, Lynn, Lynnfield, Manchester, Newburyport, Peabody, Newburyport, Salem, Swampscott, and Wenham.
Proposed Bus Routes and Schedule:
https://www.gus.org/summer-programs/enrollment-details-registration-extended-care-and-transportation/bus-transportation-
Families may also choose to enroll in morning extended care starting at 7:30 AM or afternoon extended care until 5:30 PM.
Day Camp
June 26th - August 18th (Two week sessions, one week option, half-day option)
Monday thru Friday, 9:00 AM - 4:00 PM
For children ages 3.5 - entering 6th grade.
Description: Campers will enjoy a variety of activities including natural explorations, outdoor adventures, arts & crafts, music, movement, drama, sports & games, archery, swimming, theme days, and special events. For more details:
http://www.gus.org/summer-programs/gus-day-camp-details-and-logistics
Summer Enrichment Programs
June 26th - August 4th
Monday thru Friday, 9:00 AM - Noon (Afternoon Camp Stay Option)
For children ages 7 through 13 years of age
Equestrian Program
Lacrosse Clinic
Coding and Robotics
Fashion Fushion
Summer Dance Program
Girls Leadership Academy
Book Making and Poetry
Farm the Natural World
Comic Book Fun
Paint Your Own Furniture
Fencing
Mixed Media Art
Summer Theater Workshop
For more details: http://www.gus.org/summer-programs/gus-day-camp-details-and-logistics
For further information, please contact Nancy Hartmann at nhartmann@gus.org, 978-927-1064 (x131), or visit gus.org.
"The SUMMER@GUS Day Camp is committed to providing the ultimate day camp experience," says Director of Auxiliary Programs Nancy Hartmann. Camp adventures will include hiking on Glen Urquhart's nature trails, exploring rock walls, playing survivor, learning outdoor skills, and competing in group challenges.

Creative arts projects will encourage campers to delve into music, dance, crafts, drama, and improv. Exploration will provide opportunities for campers to experience the natural world through guided discovery along the school's many trails, streams, wetlands, gardens, and in the GUS greenhouse.

"We want to create a camp community that really takes advantage of our spectacular 23-acre campus, with plenty of opportunity for outdoor fun. This includes an array of outdoor activities, sports and games, with everything from archery, frisbee golf, and ga-ga, to nine square in the air, four square, basketball, and soccer. There will also be special events and theme days, such as ice cream sundaes, a camp carnival, and crazy sock day," adds Hartmann.
Hartmann comes to Glen Urquhart after nine years at Brooks School as director of their highly successful summer day camp. Prior to Brooks, Hartmann was associate director of the Hale Reservation for two years and was a senior staff member for the Girl Scouts of Eastern Massachusetts for fourteen years. Hartmann has been a leader of the American Camping Association - New England and a board member of the Massachusetts Camping Association. She is also the Pingree School varsity volleyball coach, an American Red Cross lifeguard instructor trainer, and a water safety instructor trainer.
Hartmann believes that, today more than ever, the right camp experience is truly meaningful and powerful in supporting children as they develop character, confidence, and creativity in a healthy, safe, and fun community.
For further information, please contact Nancy Hartmann at nhartmann@gus.org, 978-927-1064 (x131), or visit gus.org.