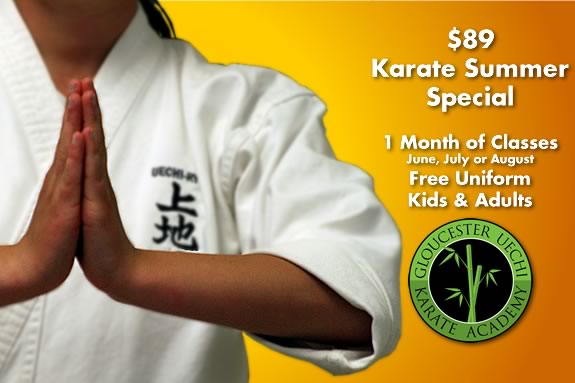 Gloucester Uechi Karate Academy is running a great Summer special for adults and children! For just $89, you can join the academy classes for a month of group classes starting in June, July or August.  This special offer includes two introductory private lessons and a karate uniform. A full schedule of classes is designed to cater to busy families. To enroll in this wonderful opportunity to gain life skills and have fun at the same time, please call or email the school.
At Gloucester Uechi Karate Academy adults and children alike will find a supportive environment, with positive students and staff that are just as eager to teach as they are to learn. By enrolling your child, they will gain a greater understanding of respect, focus, discipline, personal safety & fitness while having a blast over the summer.  
To enroll your child or yourself in this wonderful opportunity to gain life skills while having fun at the same time, please contact the school at 978.282.0629, drop by in person or email for more information.
The Student Creed
Remembering that the martial arts begins and ends with respect, I intend to:
Develop myself in a positive manor and avoid anything that would reduce my mental growth or physical health.
Develop self-discipline in order to bring out the best in myself and others.
Use what I learn in class constructively and defensively in order to help myself and others and never be abusive or offensive.
Eight Virtues of a Black Belt
Modesty
Courtesy
Integrity
Compassion
Gratitude
Self-Control
Perseverance
Indomitable Spirit