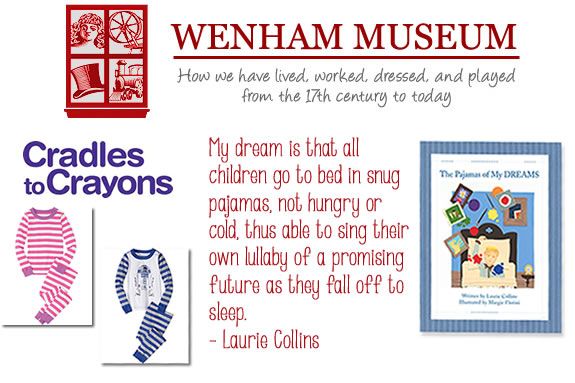 Wenham Museum is proud to host "Pajamas of My Dreams" an evening of fun with Pajama Storytime & Pajama Drive to benefit Cradles to Crayons.
"Pajamas of My Dreams" is a beautifully illustrated book that combines the hopefulness and high aspirations of children with a mission of providing warm pajamas for all.
After a reading by the author, Laurie Collins, children will enjoy a color and collage Dream activity with the book's author and illustrator, Margie Florini.
Guests are invited to bring a new pair of pajamas to donate to Cradles to Crayons; an organization that distributes clothing and school supplies to local children.
All ages welcome.
Wenham Museum is a family-friendly museum of childhood and New England family life located on Boston's North Shore since 1922. The museum's collections include model trains, a world-renowned doll collection, vintage dollhouses, a costume and textile collection, antique toys, historic photographs and the National Historic Register Claflin-Richards House. Sixteen annual rotating exhibits and related family programming help to interpret the museum's mission to protect, preserve and interpret the artifacts of childhood, domestic life, and the history and culture of Boston's North Shore.
Wenham Museum, 132 Main Street in Wenham, MA, (978) 468-2377, www.wenhammuseum.org. Hours: Tuesday - Sunday, 10 AM to 4 PM. 
Admission: $8/adults, and $6/children ages 1+.
Free admission with a donation of new children's pajamas
Group rates are available with advance registration.
When:
Wednesday, July 17, 2013 6 – 8 p.m.
Prices:
Free admission with a donation of new children's pajamas