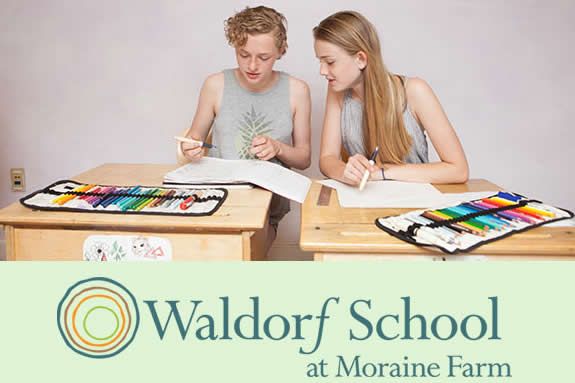 On Wednesday, April 4, 2018 at 8:00 - 10:00 am, families of students entering Pre-K through Grade 8, are invited to Waldorf School at Moraine Farm to learn more about Waldorf education.
Tour classrooms, meet our teachers, partake in interactive learning just like our kids do! Experience for yourself how our time-tested approach to education promotes a learning environment that allows for self-discovery, creative problem solving and high achievement. Academic lessons are integrated through the arts, music and movement creating multidimensional learning that fosters self-motivated and well-rounded students.
RSVP to our Open Classrooms Tour.  The tour begins promptly at 8:00 am and ends at 10:00 am after a brief Q&A period with faculty, parents and staff.
Come see how a Waldorf education brings joy in learning.
"At Waldorf School at Moraine Farm, and Waldorf schools all around the world, our goal is to ignite each child's passion for learning," Kelly Hiselman explained.  "We do this by focusing on how and when children develop, and tailoring the curriculum to the needs of the children in each grade level.  We also make sure the lessons are multi-sensory, and filled with opportunities for students to experience the material first hand.  In other schools children may read a story and write about it, and that's it.  Our students may read and write about the same story, but they may also turn it into a play.  At many schools, music class is focused on listening to and appreciating music.  At our school, every student plays an instrument, so each of them can create their own music.  Through drama, movement, handwork and storytelling, we give our students continuous opportunities to directly experience what they are learning about.  This approach makes learning more fun, and more effective.  When you talk with our eighth graders, the results are impossible to miss—they love learning, they are self-aware and self-confident, they are creative, and they are completely engaged with the world around them."
Waldorf School at Moraine Farm has been serving children on the North Shore for 30 years and is part of an organization of Waldorf schools throughout the country. The school draws its students from more than twenty communities north of Boston. The school's 10-acre campus is located on Moraine Farm in Beverly—170 acres of protected forest, meadows and farmland.  The school's non-profit neighbors at Moraine Farm include The Trustees of Reservations, who operate a community supported agriculture program, and Project Adventure, a leader in experiential adventure-based educational programs.
Visit Waldorf School at Moraine Farm to learn more about the school, its curriculum, community, and partners.
When:
Wednesday, April 4, 2018 from 8:00 - 10:00 am