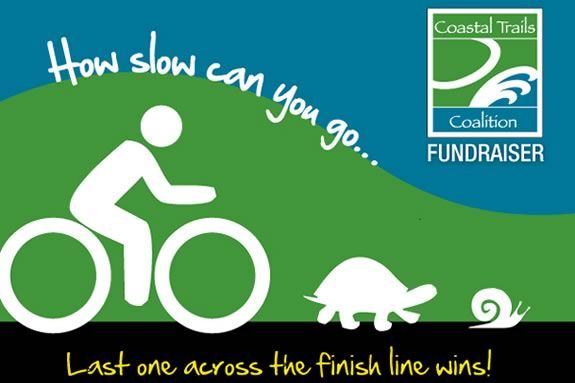 Do you ride a bike? Do you have really good balance? How slow can you go? In the Slow Bike Race, the Last one across the finish line wins! Come to Cushing Park in Newburyport and have fun, test your skill and raise some money for the Coastal Trails Coalition .
The short "race" track is the block of Pleasant Street between Green and Titcomb Streets. Registration begins at 5:30 pm on Pleasant Street at Brown Square and the first heats will begin at 6 pm.
The Grand Prize will be awarded to the rider who raises the most donations, First Prize will go to the last-place winner, and a Judges' Prize will be awarded for creative costume.
The minimum contribution to enter the race is $25, and donations are tax-deductible.  Participating Riders are encouraged to raise funds for their participation through sponsorships and donations.
Going backwards or touching the ground not allowed! Grand Prize awarded to the rider with the most donations, and First Prize will go to the Winner (last place). An addtional Judges' Prize will be awarded for best costume.
Contact Coastal Trails Coalition to register, volunteer or for more info.
When:
Wednesday, July 31, 2019 6pm
Prices:
Minimum contribution for race entry: $25