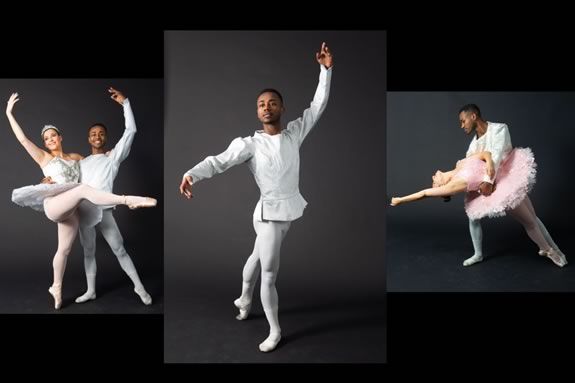 Long a traditional favorite, Methuen Ballet Ensemble brings the holiday classic, "The Nutcracker" to Firehouse Center for the Arts in Newburyport, Massachusetts. Join us for this very special production of Methuen Ballet Ensemble's The Nutcracker.  Methuen Ballet Ensemble, an established local ballet company under the artistic direction of Vanessa Rae Voter, has staged The Nutcracker for over twenty-five years.  
Principal roles are performed by members of Methuen Ballet Ensemble, whose experience totals over 150 years of classical ballet training under Ms. Voter's tutelage. This year's production will also feature a very special Guest Artist Mr. Alban Costello of Festival Ballet Providence in the roles of Snow King and Sugar Plum Cavalier. Ethiopian by birth, Alban Birhanu Costello began his ballet education at the age of 8. While at Southold Dance Theatre under the directorship of Erica Fischbach, Mr. Costello was awarded a full merit scholarship to attend the University of North Carolina School of the Arts at the age of 15. There he trained under Susan Jaffe, Misha Tchoupakov, Jared Redick, Ilya Kozadayev and others while working with world renowned choreographers such as Goyo Montero and Helen Picket. Alban placed within the top three competitors at numerous Youth America Grand Prix competitions from Denver to New York. He also was chosen as one of two UNCSA representatives who attended the 2019 Prix de Lausanne Choreographic Workshop. Alban is looking forward to his first season with FBP.
Students of Voter's School of Dance in Salem, NH, Helene Joy School of Dance in Middleton, MA, and Dance Concepts in Pelham, NH perform all other roles. Dancers hail from Methuen, Lawrence, Haverhill, Boxford, N. Andover, Georgetown, Wenham, Middleton, and Newburyport, MA as well as Salem, Pelham, Londonderry, Plaistow, Windham, and Manchester, NH.
Each year, this production has become more elaborate with stunning visual effects and custom-designed costumes. All performances include a giant growing Christmas tree, a heavenly mist, and an abundance of snowfall. Note: No chemicals will be used during this production. The mist effect will be achieved with the lighting design.
Come share in the magic of Methuen Ballet Ensemble's The Nutcracker and introduce your family to the joy and spectacle of this classic dance event!
When:
Gala Reception and Show: Saturday, November 30, 2019 6pm
Saturday, November 30, 2019 3pm
Sunday, December 1, 2019 1pm
Prices:
Evening Performance with Gala Admission: $28
Matinee Admission: $26