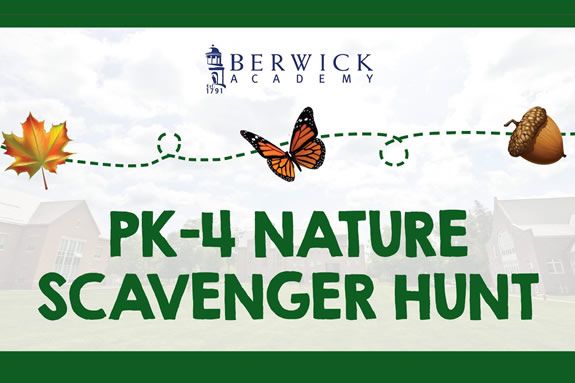 Join us at Berwick Academy on Sunday, October 6, 2019 from 1–3 p.m. for a creative, nature-based exploration of Berwick's campus, while learning what makes our PK–4 Lower School a special place to learn and play.
Parents and children will engage in various learning adventures during this creative campus nature tour, while enjoying the Hilltop's natural sights, sounds, and scents. Families will connect with teachers and current students in the process, with prizes and takeaways included in the experience.
Past scavenger hunts have included a creative campus nature tour, story time in our library, movement activities, outdoor and nature-based art, building in our Fabrication Studio, and more. Interact with Berwick's teachers and students, snack on some healthy treats, learn about our project-based teaching and learning, and receive prizes and giveaways! We welcome you to our campus for this experience – rain or shine!
Berwick Academy offers 8 bus routes with stops in Haverhill, Newburyport, and Byfield, welcoming students from nearly 70 communities throughout the northshore of MA, seacoast NH, and southern ME. Our northshore families hail from Amesbury, Byfield, Danvers, Georgetown, Groveland, Haverhill, Ipswich, Lynnfield, Merrimac, Newbury, Newburyport, Reading, Salisbury, Topsfield, Tyngboro, and West Newbury. Learn more about our bus routes and stops.
Berwick is a leading academic institution preparing students from Pre-K to grade 12 to find their passions. Our innovative approach to student-directed learning that is both rigorous and balanced, ensures that students come to school each day engaged in their academic, arts, and athletics opportunities.
Our PK-4 Lower School promotes a joy of learning from a very young age. Lower Schoolers are exposed to the Mandarin and Spanish languages and cultures from age 3, are able to explore coding and robotics in technology and science classes, and create a sense of self through Yoga 4 Classrooms within their homeroom experience. Our youngest students are exposed to a balanced education from the very beginning, and a strong emphasis on character education is instilled on a daily basis.
When:
Sunday, October 6, 2019 from 1–3 p.m