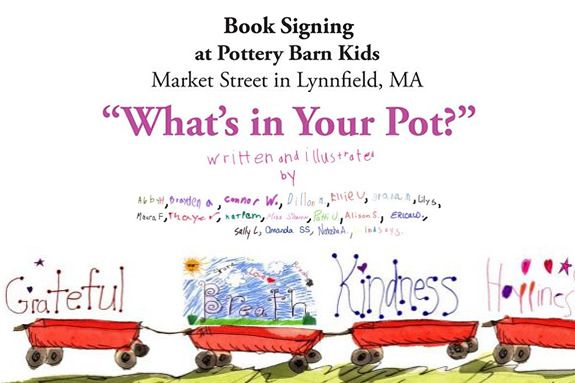 Come and meet the children illustrators and enjoy a book reading and signing of 'What's in Your Pot?" A Kids Yoga Story! Snacks will be served and Kidcasso Art Studio will be there with a fun activity!
50% of the book sale proceeds will benefit Summer Street School PTO in Lynnfield.
This is a compilation of illustrations by children and adults showing what they would put in their pot to help them grow. Additional uber-talented young artists include: Abby H., Brayden A., Connor W., Dillon M., Ellie U., Graham F., Lily S., Maura F., Thayer S., Katie M., Patti U., Alison S., Erica W. Amanda S.S., Lindsay S., Natasha A.
Sharon Marrama is the founder of Here Comes the Sun Yoga Studio in Lynnfield MA which developed out of her passion to share yoga and its positive message with children. When not writing children's books she is busy spreading sunshine, teaching kid's yoga, reading inspiring books, walking mindfully and enjoying time with her grandson Connor. Sharon lives in Lynnfield MA and enjoys summers at Plaice Cove in New Hampshire. Sally O. Lee is an award-winning author/illustrator who has written and illustrated over thirty books for children. She is also a painter, and some of her work is in various private collections in the US. She lives and works in Massachusetts with her cats, Dominic and Vinney. For more about her work, visit her web site, www.sallyleebooks.com.
When:
Sunday, February 21, 2016 from Noon to 2 p.m.