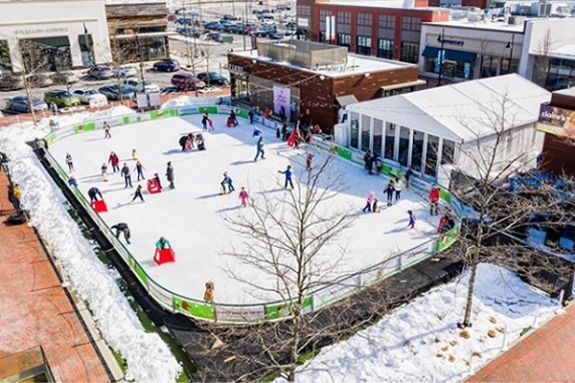 MarketStreet Lynnfield will once again welcome guests to celebrate the magic of the winter season with the return of The MarketStreet Rink sponsored by Capital One.
Kicking off the season earlier than ever, The MarketStreet Rink will begin welcoming skaters for its 7th year in a row this Saturday, November 9th at 10am and will remain open through February. The Warming Tent also returns to further enhance this seasonal destination, providing a cozy haven for spectators and skaters as they lace up. In celebration of The MarketStreet Rink's opening weekend, guests will be treated to a live DJ and prizes on Saturday, November 9th from 12pm to 2pm. The MarketStreet Rink is located on The Green, home to MarketStreet Lynnfield's community events and celebrations, near lululemon, Kendra Scott and JP Licks. 600 Market Street in Lynnfield, MA; www.marketstreetlynnfield.com
"For almost a decade now, MarketStreet Lynnfield has welcomed thousands of skaters to The MarketStreet Rink and we're absolutely thrilled to, once again, invite the community to make special wintertime memories. We look forward to another amazing year with an exciting schedule of rink happenings and events," says Charlotte Woods, General Manager.
 
"Capital One Cafés strive to be deeply connected with the communities we serve. We believe strong communities and strong businesses go hand-in-hand and we're thrilled to partner with MarketStreet Lynnfield for this much-loved winter tradition," says a Capital One Representative.
Throughout the season, the community can expect an exciting line-up of themed skate nights, events, and special offers from the North Shore Capital One Café team. The Rink and Warming Tent are also available for private rentals including corporate events and birthday parties.  
2019-2020 Rink Hours:
Monday: 4:00PM – 9:00PM
Tuesday: 4:00PM – 9:00PM
Wednesday: 1:00PM – 9:00PM
Thursday: 4:00PM – 9:00PM
Friday: 4:00PM – 10:00PM
Saturday: 10:00AM – 10:00PM
Sunday: 11:00AM – 8:00PM
* Skating conditions and hours are weather dependent.
 
Skating Admission Rates:
 
Ages 13 and up: $8.00
Children 12 and under: $6.00
Children 3 and under: Free
 
Skate Rental Rates*:
Skate Rentals: $4.00
 
* Skaters are permitted to bring their own ice skates.
* Limited skate sizes and quantities are available for rent.
For the latest on The MarketStreet Rink visit  marketstreetlynnfield.com.
MarketStreet Lynnfield is located at 600 Market Street in Lynnfield, MA.
 
MarketStreet Lynnfield is the North Shore's award-winning premium open-air shopping destination boasting over 80 shops and restaurants, over 25 of which are locally owned. Since its 2013 opening, it has become essential to the North Shore community, both for its diverse shopping, dining and entertainment options and for its dedication to family friendly events, seasonal festivities, and charitable fundraisers.  Recently awarded "Best Shopping Complex, North" by Boston Magazine's Best of Boston 2019 issue, the property features such leading brands as Amazon Books, Whole Foods Market, Kings Dining & Entertainment, Tommy Bahama, Davio's Northern Italian Steakhouse, Apple, lululemon athletica, California Pizza Kitchen, Nike Running, FatFace UK, Hanna Andersson, Yard House, Legal C Bar, sweetgreen, Tumi, Pink Parkway, Roots, Wahlburgers, Paper Source and Vineyard Vines. MarketStreet Lynnfield is developed and leased in a partnership between leading Massachusetts commercial developers National Development and WS Development. For more information and the most recent updates, please visit www.marketstreetlynnfield.com and follow along on social media: Facebook: MarketStreetLynnfield, Instagram: @marketstreetlynnfield, #marketstreetlynnfield
About Capital One: Capital One Financial Corporation (www.capitalone.com) is a financial holding company whose subsidiaries, which include Capital One, N.A., and Capital One Bank (USA), N.A., had $243.7 billion in deposits and $365.7 billion in total assets as of December 31, 2017. Headquartered in McLean, Virginia, Capital One offers a broad spectrum of financial products and services to consumers, small businesses and commercial clients through a variety of channels. Capital One, N.A. has branches located primarily in New York, Louisiana, Texas, Maryland, Virginia, New Jersey and the District of Columbia. A Fortune 500 company, Capital One trades on the New York Stock Exchange under the symbol "COF" and is included in the S&P 100 index. Visit the Capital One newsroom for more Capital One news.
When:
School Vacation Days: 11:00 AM - 9:00 PM
Monday, Tuesday, Thursday and Friday: 4-9 p.m.
Wednesday 1-9 p.m.
Saturday 10 a.m. - 10 p.m.
Sunday 11 a.m. - 8 p.m.
The Rink and Warming Tent are also available for private rentals including corporate events and birthday parties.
Prices:
Skate Rentals: $4
Ages 13 and up: $8
Children 12 and under: $6
Children 3 and under: Free