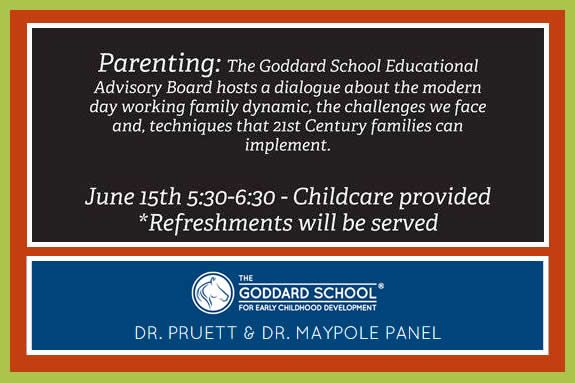 The Goddard School Educational Advisory Board hosts a dialog about the modern day working family dynamic, the challenges we face and, techniques that 21st Century families can discuss and implement.
Dr. Pruett & Dr. Maypole - Members of The Goddard School Educational Advisory Board speak about The Goddard curriculum methodology as well as the Refreshments will be served and childcare will be provided for current enrolled families only.
Kyle Pruett, M.D.. is a clinical professor of Child Psychiatry at Yale School of Medicine and an internationally known child psychiatrist. He is also the author of award-winning books Me, Myself and I and Partnership Parenting.
Jack Maypole, M. D. is a well-respected pediatrician, Associate Professor of Pediatrics at Boston University School of Medicine and Director of the Comprehensive Care Program at Boston Medical Center.
When:
Thursday, June 15, 2017, from 5:30 to 6:30pm.