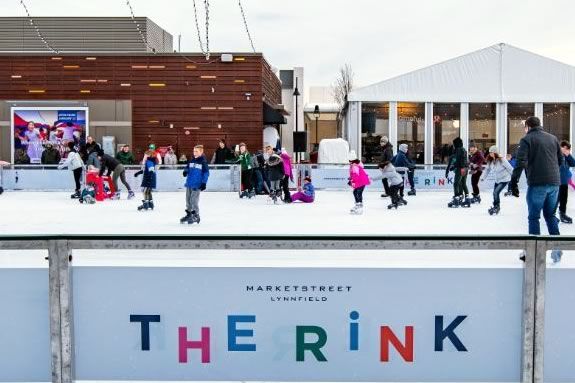 MarketStreet Lynnfield celebrates New Year's Eve! 2020 is coming and we want to celebrate with you, Rink-style. Join us at The Rink on Dec. 31, 4-6 PM for a family-friendly night on the ice, including special skate rates, resident live DJ R.J. DeSanctis Entertainment, prizes and games. After you hit the ice, head to one of our Skates + Plates locations for the best bites in town. Details below. See you there!
Special Rink Admission: Kids skate free with any adult admission (valid for children 13 years of age and under)
Skates + Plates Offers:
Gaslight Kitchen and Bar : One free children's entree with the purchase of an adult entrée
Wahlburgers: 10% off
Temazcal: 10% off in-house dining only
Yard House: Free kids' meal with the purchase of an adult entrée
Kings Dining & Entertainment: Free Kids Meal with Adult Entree Purchase
J.P. Licks: 10% off your entire purchase. Gift cards not included.
Boloco: 20% of total amount
It'sugar: 10% off
The 2019-2020 Rink is sponsored by Capital One Café!
When:
Tuesday, December 31, 2019; 4-6pm