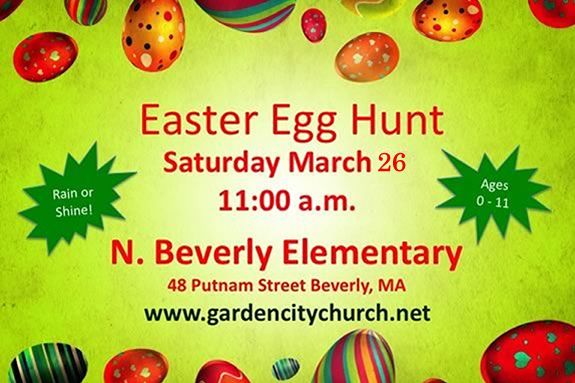 The Garden City Church invites you to a morning of fun, games, and ten thousand candy-filled eggs! Arrive early to register and be ready to go at 11:00 am. With over two hundred kids, the eggs will go fast! Registration starts at 10:00 a.m. DON'T BE LATE!
Face painting, huge bubbles, and a host of activities will keep the kids busy until the big moment arrives. The hunt will begin at 11:00 a.m. Kids line up in sections according to age (3 & under; 4 & 5; 6 - 8; 9 - 11).
Moms and dads are welcome accompany their child on the hunt. Bring a basket or bag to collect the eggs. Garden City Church is hosting a FOOD DRIVE to benefit Beverly Bootstraps. Bring are peanut butter, canned vegetables, canned fruit, rice, baked beans, and more. Please check out the Bootstraps website (www.beverlybootstraps.org) for more items.
PLEASE NOTE: Parking is limited.For additional information call 978-921-1613 or email info@gardencitychurch.net.
When:
Saturday, March 26, 2016 11am