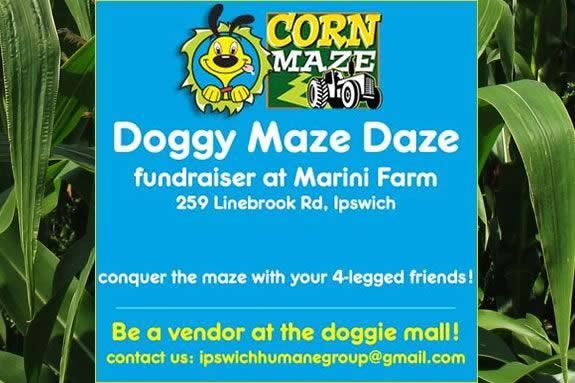 The Ipswich Humane Group is teaming up with Marini Farm in Ipswich to host a Doggy Maze Daze Fundraiser to support the Ipswich animal shelter. One weekend only Marini Farm will open the corn maze for pet owners and their four legged friends! Guests can bring their canine companions and get lost in the maze!
There are 10 miles of family friendly pathways in the maze with helpers perched high above to guide you if you need it. IHG will be handing out free baggies to everyone that enters the maze for their dogs. Dogs must be leashed in the maze to be safe. Average time to complete the maze is 2 hours.
After the maze guests can also try the jumping pillow, take a hayride, try the apple cannons and more for an additional fee.
A portion of the proceeds benefit The Ipswich Humane Group Animal Shelter.
The Ipswich Humane Group is an all volunteer, non-profit group that assists Ipswich ACO to enable a no-kill animal shelter for the Town of Ipswich.
When:
Saturday, September 8, 2018 10am-6pm
Sunday, September 9, 2018 10am-6pm
Prices:
Ages 3+ $12.99
Pets are FREE