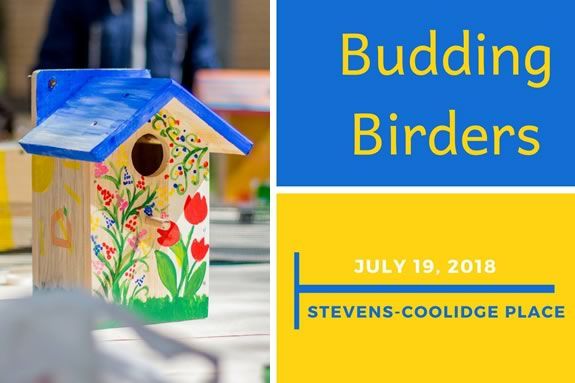 It's summertime and our neighborhood birds are busy eating insects, building nests and soaring through the sky. Join us in the Stevens-Coolidge Place gardens with your budding birders for a mid-morning story time, craft and adventure.
We'll begin with a story time featuring the theme of the day, then we'll head out on a nature walk to see what birds call the gardens home, listening to their sounds and watching them nest in the trees. We'll end the program by painting our very own birdhouses to take home to encourage nesting and help our new bird friends stay safe. More than 50 different species of birds nest in bird houses. Who will call yours home?
All ages welcome.
Recommended for ages 5 and up.  
Space is limited; Pre-registration required.
Questions? Contact kbibeau@thetrustees.org or visit our Facebook page for the most up-to-date information: www.facebook.com/stevenscoolidgeplace/
When:
Thursday, July 19, 2018 10am-Noon
Prices:
TTOR Members: Kids: $15
Non-Members: Kids: $25
Adults: FREE