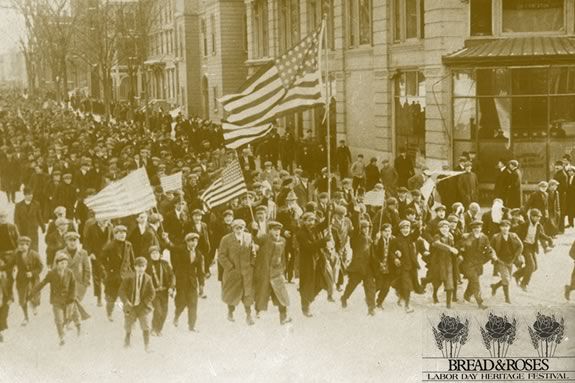 Lawrence is a city of art, culture and history, and what better way to continue the excitement of Labor Day Weekend in Lawrence, than with the Bread & Roses Heritage Festival? At the festival, attendees can enjoy art, history, food, and especially, music where we have three stages off all-day entertainment.  This annual festival is celebrated on Labor Day in order to honor the most significant event in Lawrence history: the 1912 Bread and Roses Strike. We memorialize the event with a variety of music and dance, poetry and drama, ethnic food, historical demonstrations, and walking and trolley tours, all on or starting from Lawrence's Common. The festival is a one-day 'open air' celebration.
There will be three stages with music throughout the day featuring a spectrum of musicians including rock & roll, folk, jazz, Dominican Blues, pop, raggae hip hop and more!  Families will enjoy historic walking & trolley tours, a puppet theater, pony rides, juggling, portraits by Ed Bray, make your own social justice poster, and lots of great exhibits.  The Kidz Zone features arts, crafts, bubbles, face painting and more! 
Now accepting vendor applications and welcoming volunteers of all experience levels year-round! For more information about the festival, visit us at breadandrosesheritage.org, or contact us at info@breadandrosesheritage.org.
When:
Monday, September 6, 2021