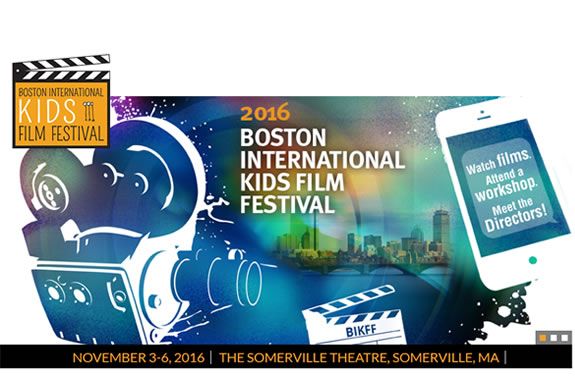 From November 3-6, 2016, Arlington's Capitol Theatre and the Somerville Theatre will come alive in a celebration of imagination and creativity as the 4th Annual Boston International Kids Film Festival gets underway.
The Boston International Kids Film Festival offers films made for kids and by kids, and hands-on workshops that will enable the next generation of filmmakers to realize the power and potential of media.
Designed for young people and their families, the festival will showcase features, shorts, documentaries and student-made films from around the world.
54 films have been accepted to this year's festival, representing 12 countries, including UK, Australia, USA, Spain, Canada, Qatar, The Russian Federation, Chile, Brazil, France, Mexico and the Netherlands.
The festival will kick-off on Thursday night at 8:30 p.m. at the Capitol Theatre with a screening of nine short student films, designed for ages 12 and over.
On Friday, November 4, the festival will offer a free screening of seven short films from 3:30 – 5:30 p.m. at the Somerville Theatre. Later that evening, the festival will feature a screening of the film Annabelle Hooper and the Ghosts of Nantucket, a film that follows a teenage mystery writer and her friends as they outwit two scheming thieves to solve the secret behind a legendary ghost story. The film was directed by Emmy-Award winning local director Paul Serafini.
On Saturday, November 5 at the Somerville Theatre, the festival will feature two series of short films (one geared specifically for kids ages 10 and under) as well as a series of documentary short films. On Saturday night, the festival will screen the feature film Life, Animated, a documentary film from Academy Award winning director Roger Ross Williams. The film tells the inspirational story of Owen Suskind, a young man who was unable to speak as a child until he and his family discovered a unique way to communicate by immersing themselves in the world of classic Disney-animated films.
On Sunday, November 6th, the festival will offer an autism-friendly screening of the film Life, Animated at 1:00 p.m. The festival will also offer a screening of student films and a screening of short films before concluding with an awards ceremony and wrap party, hosted by Boston theatre and film critic Joyce Kulhawik.
In addition to the films, the 2016 Boston International Kids Film Festival will feature a variety of workshops designed to teach kids the basics of filmmaking and media. The workshops include:
All Day Filmmaking, a special one-day filmmaker bootcamp offered by Filmmakers Collaborative on Saturday, November 5, 2016 at 9:00 a.m. Students will learn filmmaking basics and make a short film in one day, which will be shown at the festival on Sunday.
Stop-Motion Animation Workshop, on Saturday, November 5th from 10:am – 12 noon. Students can experiment with animating pure movement without the constraints of the drawn line and explore the principles that create the illusion of movement with both stop motion and 2D animation
Media Girls Workshop on Friday, November 5th from 3:30 pm – 5:00 pm. Designed for middle-schools girls, this workshop will teach participants to challenge how girls are portrayed in the mainstream media. Participants become a part of the solution by creating content in which they speak out against gender stereotypes and shine the spotlight on girls and women making positive contributions.
For more information or to purchase tickets to the festival, visit http://bikff.org/.
Arlington    781-648-4340    204 Massachusetts Ave., Arlington, MA, 02474
Somerville    617-625-5700  55 Davis Square, Somerville, MA, 02144
When:
November 3-6, 2016
Movie and workshop times vary each day. Check the schedule for details.