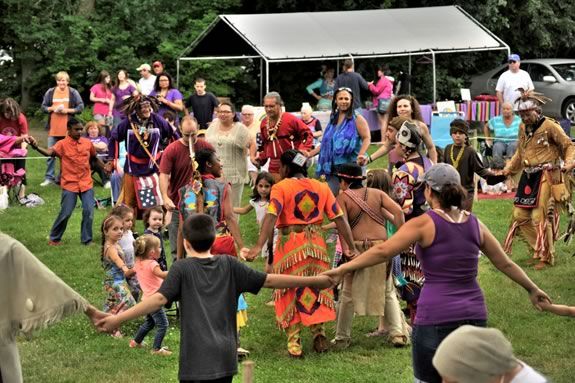 Come to Haverhill Massachusetts for the Annual Intertribal Pow-Wow! Sponsored by the Massachusetts Center for Native American Awareness, this festival is a showcase for traditional Native American culture including dance, music, storytelling, craft making, singing, tipi building, native foods, interactive games and more. Bring the family, learn about the culture of the Native American tribes that existed here prior to European settlers arriving, and enjoy the beautiful setting of Plug Pond in Haverhill!
Through their Pathfinders Program, friends from the Penobscot Tribe in Maine will bring the 28' voyager to the pow-wow for attendees to take a ride around the outer Pond. The rides will be led by Native Master Paddlers from the Tribe. The paddle is a different and fun experience for everyone as well as an educational opportunity based on some of the discussions that take place in the Canoe about the land, nature, art, culture and history.
We will also have canoe and kayak paddling opportunities for our visitors.  Everyone will be able to take either a kayak or the small canoe ride around the shore line of the Pond. These opportunities will be offered free of charge and safely guided on land by MCNAA Advisory Council Member  Patricia Rocker (Chappaquiddick Wampanoag). 
When:
Saturday & Sunday, September 7-8, 2019 11am-6pm
Prices:
Adults: $5
Kids: $3
Children 3 and under: FREE