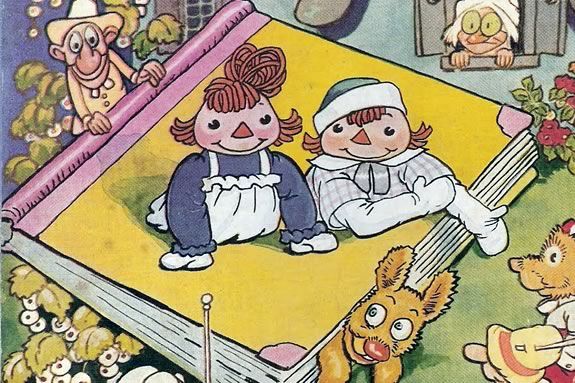 In celebration of the Wenham Museum's 90th year, the museum presents Picture This: 90 Years of Storybook Art, an exhibit exploring how toys have provided inspiration to authors and illustrators since the genre of children's literature began.
This playful exhibit features classic toy stories that come to life through more than 50 original storybook illustrations, the books, and the toys themselves, in a colorful display engaging for all ages. Beautifully detailed original storybook illustrations set the scene for classic toys displayed side-by-side with the artwork of cherished stories including [amazon 0394829115 inline] by Lego Lionni, Raggedy Ann in the Golden Meadow by Johnny Gruell (used at Amazon: [amazon B0008B3K9Y inline]), and [amazon 014030942X inline] by Tasha Tudor.
Children will have fun playing with replicas of the timeless toys that inspired these storybooks, dress in character costumes, become an illustrator as they create their own picture book and practice storytelling with over-sized story cubes.
Together, families enjoy the timeless toys that inspired these stories, children act out the adventures dressed in character costumes and create a picture book starring favorite childhood toys of both young and old.
Leslie S. Ray Insurance Agency, Inc sponsors this exhibition.
In conjunction with the Picture This exhibit, the museum is planning A Celebration of Contemporary New England Children's Book Illustrators from March 2 to March18, 2012 mounted by guest curators Mary McDonough, owner of the online Child at Heart Gallery and Pamela Hickey, former manager of The Churchill Gallery, Newburyport.  This two-week special display features 50 original artworks from today's award-winning New England illustrators including Pat Lowery Collins, Leslie Evans, Giles Laroche, Grace Lin, David McPhail, Claire Nivola and  Teri Weidner.
On Sunday, March 4, 1-4 pm the public is invited to an opening reception of the Contemporary New England Children's Book Illustrators exhibit. Children are welcome to come dressed as their favorite children's book character, create block prints with children's illustrator, Leslie Evans, create collage art with museum educators and meeting children's author-illustrators Pat Lowery Collins, Leslie Evans, Giles LaRoche, Grace Lin and Teri Weidner at readings and book signings throughout the afternoon.
Children ages five and up will discover the simple life of 19th-century New England at the museum's Tasha Tudor Tea Party on Sunday, March 18, 1pm.
Junior leaguers can celebrate the magic of baseball with a children's baseball party including a special visit with award-winning children's book illustrator Matt Tavares as he signs copies of Zachary's Ball: Fenway Centennial Edition on Saturday, April 21. 
Visit the Wenham Museum website or call for details of these and additional exhibit-related programs.
When:
February 3, 2012 - May 6, 2012