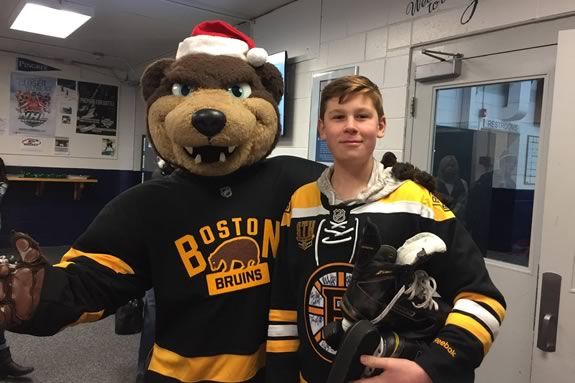 Help Griffin Bouchard help others by attending his fundraiser skate at the Pingree rink in Hamilton! Dig out your skates and bring the family to the Pingree Skating Rink to skate with Boston Bruins legend Rick Middleton, Blades the Bear, Andrew Alberts and other guests. There will be great raffle prizes including signed Bruins jersey and stick, food, and a chance to scrimmage against the Boston Shamrocks Sled hockey team! All proceeds go to Boston Children Hospital's concussion prevention/brain trauma center.
In 2014, Griffin Bouchard  had surgery on both of feet at Children's Hospital.  To give back to hockey and to the hospital, he raised $1500. He exceeding his $1000 goal set in his Life Skills class project to complete a service oriented goal. Since, he has partnered with the Boston Bruins Foundation, the Corey C. Griffin NHL Pro-Am Alumni Tournament, and Bruins Alumni, and he has raised his personal fundraising goal anually.
Boston Children's Hospital is ranked #1 on U.S. News and World Report's Best Children's Hospitals honor roll. More than offering great care, the hospital is known for its commitment to the Boston community—serving as the largest provider of health care to low-income children in our state. The hospital is also home to the world's largest research center at a pediatric hospital, making discoveries that benefit both children and adults. Just one area of research we're leading: concussions and injury prevention. Children's Sports Concussion Clinic is a national leader in understanding and treating pediatric concussions, with a multidisciplinary research team and a clinical setting that receives more than 350 patient visits each month. Philanthropic support will advance critical research into this skyrocketing problem.
When:
Wednesday, December 20, 2017 5:30-7:30pm