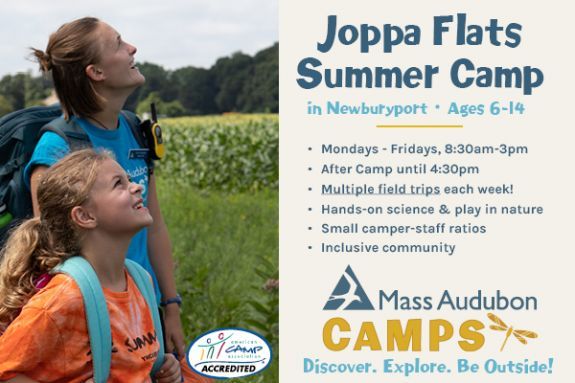 Explore nature and get outdoors at Joppa Flats Education Center Summer Camp. Joppa Flats Summer Camp is the perfect program for children with an interest in and curiosity about nature. Campers ages 6 to 14 have fun and make friends as they discover local habitats and wildlife. Register for a nature-based day camp sessions for childages 6-14 today! 
This summer Joppa Flats Summer Camp continues its tradition of nature connection through play and outdoor exploration, thanks to dedicated staff and creative, hands-on programming within the inclusive and caring camp community. Camp days are filled with insect catching, wildlife tracking, and experimenting with everything from flight, to weather, to metamorphosis, to snail slime! Campers go on multiple local field trips each week to explore amazing habitats first-hand. Small group sizes nurture friendships and ensure that campers stay safe and engaged.
No two days are alike at Joppa Flats Summer Camp, but this sample schedule gives an overview of daily activities and flow.
Tuition:
Reference the website for rates