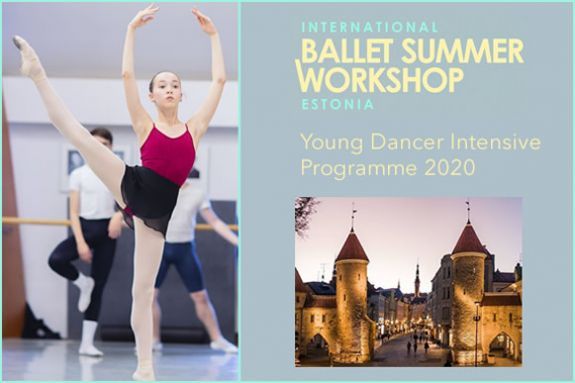 Young Dancer Ballet Intensive Programme 2020 held June 29th – July 9th in the Estonian National Opera.
Open to ballet students from 12 to 15 years of age and students from professional schools, public or private. This program is designed for young dancers who want a challenging summer dance experience, guaranteed to improve their level of technique and prepare them for the next school year. The Young Dancer Intensive program includes ballet technique, pointe, preparatory pointe, introduction to variations, contemporary and floor ballet barre/Pilates.
Young Dancer Intensive is a comprehensive 11 day intensive workshop for dancers ages 12-15 years.
 The six-day intensive runs from 10.00 am-17.30 pm each day and allow young students to improve their skills in a  highly focused environment.
Students will participate in at least four classes each day, Monday-Saturday, plus rehearsals for a final in-studio performance (on 9 July).
Open class for parents at the end of the first and second week.
All classes and the final showing will be held at the National Opera Estonia
During the day, young dancers are under our supervision.
 We provide accommodation and transfers for young dancers (if they are coming without parents)
Young dancers can arrive at the workshop with or without parents. (depending on the programme participants choose)
The programme includes the workshop, presents (t-shirt, simple bag, bottle), ballet photos, excursion and welcome party.
Please Note: International Summer Ballet Workshop 2020 offer a special EARLY BIRD DISCOUNT till 1st January 2020
We offer a special Early Bird discount - save 100 Euro for the first 10 students who register and pay before 1st January 2020!!
You save off the tuition fee if you pay the full amount on registration.  (please note that this bonus is for participants attending the full programme)