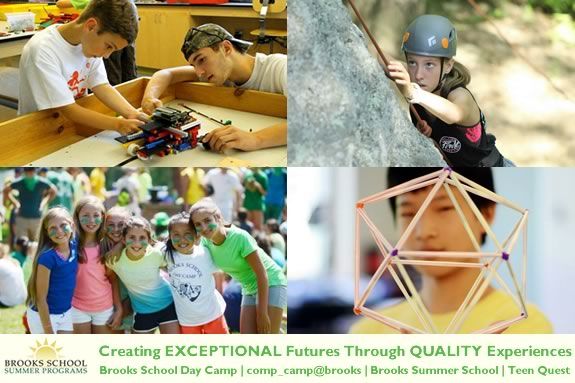 Located on the beautiful 250 acre lakeshore campus of the Brooks School in North Andover, MA; Brooks Summer Programs comes alive every summer to offer extraordinary opportunities for children aged 4-18. Now in our 45th season, programs ranging from Day Camp, Computer Camp, Teen Quest and Summer School are specifically designed to meet a wide variety of interests.
From swimming, boating, archery, arts & crafts, rock climbing and surfing to painting, acting and cooking, to robotics, movie making and game design to Creative Writing, Math and SSAT/SAT test prep; youngsters flourish in a supportive atmosphere, acquire new skills, stir interest, make friends and journey through memorable summer adventures. Transportation and Extended Day options are available.
BSDC campers enjoy an incredible experience that will provide memories for a lifetime, and can expect to have fun-filled days enriched with the opportunity to Explore our natural world, Be creative through music, arts, and expression, Make new friends with other campers, LITs, and counselors, Improve skills through activities such as going for the bullseye, tumbling, swimming and rowing, and Feel safe to take on new challenges on our ropes course and enjoy fun group events!
Session 1 June 27-July 8
Session 2 July 11 - July 22
Session 3 July 25 - August 5
Session 4 August 8 - August 19
Comp_camp@brooks provides boys and girls entering 3rd to 8th grade with an exciting learning atmosphere while maintaining a fun summer camp attitude. During week-long sessions, the camp teaches a variety of software programs using the latest multimedia machines. Game development, animation, robotics, digital music, graphic art and design, programming, movie making, and web design are among the many offerings.
Session 1 - July 11 - July 15
Session 2 - July 18-22
Session 3 - July 25 - 29
Session 4 - August 1-5
Session 5 - August 8-12 (campers entering grades 5-8 only) Session 6 - August 15 - 19 (campers entering grades 5-8 only)
Teen Quest Campers entering grades 7-10
Each week counselors will supervise up to 36 teens in small groups.  Specialists with proven experience in their areas will lead activities in our adventure and dynamic arts program areas.
Session 1 - June 27-July 1
Session 2 - July 5-8
Session 3 - July 11-15
Session 4 - July 18-22
Session 5 - July 25 - 29
Session 6 -August 1 - 5
Session 7 - August 8-12
Session 8 - August 15-19
English, Math, SSAT, SAT and ACT classes meet every day for four weeks, one hour per day per class.  Small class sizes in an ideal learning environment.
Session 1 - June 27 - July 22
Session 2 - July 24 - August 19
To register or for more information, call our office at (978) 725-6253 or email daycamp@brooksschool.org<mailto:daycamp@brooksschool.org> or to download forms, visit our website<http://summer.brooksschool.org/registration/forms>