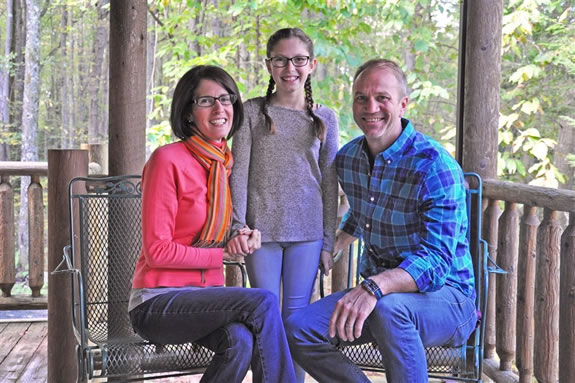 The Board of Trustees has unanimously elected Clair Ward to become Shore's seventh Head of School as of July 1, 2017. Ward is currently the Head of the Valley School of Ligonier, in Pennsylvania.
In the message to the community announcing the selection, the President of the Board of Trustees, Jenn Borggaard, wrote, "An experienced teacher, administrator, and leader, Clair is well prepared to succeed long-time Head of School Larry Griffin and lead Shore into its next chapter."
In her own letter to the Shore community, Ward wrote about her love for education and her eagerness to join the school:
 
"For my entire career as a teacher and administrator, my happiest moments are the ones I have spent with children. Watching them grow and thrive, supporting them when things are not going as expected, and celebrating their victories are the snapshots I carry with me no matter where I go. I simply cannot wait to be side by side with the educators and families of Shore. Shore's deep roots in progressive education and raising children as leaders, thinkers, feelers, and responders in the world are a perfect fit. Your teachers demonstrate a passion for children—something I find so inspirational as an educator. It will be a pleasure to team with such a talented group of administrators and faculty."
Shore's current Head of School, Larry Griffin, had this to say of his successor: "Clair Ward is an insightful and experienced school leader whose perspective will guide Shore to new heights. Our personal conversations have revealed both her enthusiasm for the job and her uncanny insight into Shore. From my perspective, given the strengths of our current faculty, staff, and collaborative administrative team, I am confident that Clair inherits a community ready to embrace change in the best way possible."
A native of the North Shore who attended Danvers public schools, Ward graduated from Hamilton College, where she double-majored in English and Classics, and completed her M.Ed. in Educational Administration and Curriculum at Boston College.
Ward has a distinguished career as an educator over the past 23 years. Beginning as a classics teacher fresh out of graduate school, Clair rose quickly in every school in which she has served. In 2000, she was appointed Associate Head of School at the Phillips Brooks School in Menlo Park, California, where she served for eight years before being appointed Head of School of Valley School of Ligonier in 2008. During her nine years at Valley, Ward worked tirelessly to forge successful partnerships with students, families, faculty, staff, and trustees. She successfully took on a wide range of initiatives including curriculum and course development, increased funding for faculty professional development, and the creation of an effective strategy to make Valley better known and understood in the larger community.
Beyond her school, Ward is widely respected for her work as Commissioner of Accreditation for the Pennsylvania Association of Independent Schools, which has kept her on the cutting edge of the field's best practices, and acutely aware of the thematic challenges facing independent schools today.
In addition to serving as Head of School, Ward will also be a Shore parent along with her husband, Bryon Williams, a Ph.D. candidate at Duquesne University. Their sixth-grade daughter, Ella, will be entering the seventh grade at Shore in the fall of 2017. 
In closing her letter to the Shore community, Ward wrote, "Bryon and I feel privileged to be able to share the experience of raising a child among the fabulous Shore families we have met or will soon know. We are confident that this warm community will be a wonderful landing spot for our family."