Explore the lighted wonder of the Stone Zoo during the annual Zoolights, where thousands of twinkling lights put an added touch to some of the zoo's more lively inhabitants. In addition to bald eagles, porcupine, lynx, a gray fox, and a reindeer, Santa will be on hand for photos through Dec. 23. The event begins on Thanksgiving and runs through December, 31, 2013, except for Christmas Day.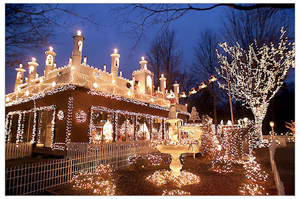 This winter wonderland attracts thousands of visitors each year who get into the holiday spirit by strolling along tree-lined paths lit by thousands of twinkling lights. Upon entering the Zoo, guests will visit Yukon Creek, which not only features dazzling holiday lights but is also home to bald eagles, a North American porcupine, a gray fox and reindeer. Children will want to make sure they visit with Santa, who awaits their arrival in Santa's Castle. Jolly Old St. Nick will be available for photos through Dec. 23. After visiting with Santa, enter a magical holiday world filled with fairy tale characters and dancing plush animals.
ZooLights opens Thursday, November 28 (Thanksgiving) and runs through Monday, December 31, 2013. ZooLights is open 5:00 – 9:00 p.m. and is closed on December 25.
When:
Thursday, November 28, 2013 through Monday, December 31, 2013