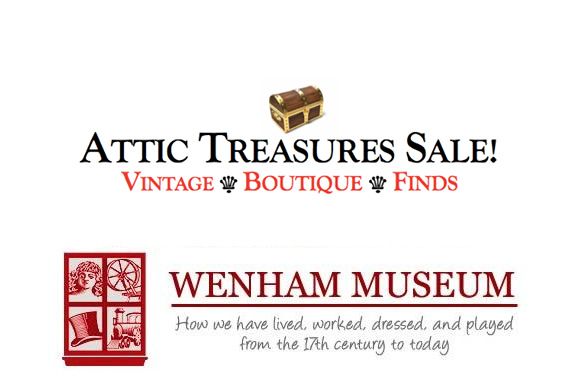 It's time once again for the Wenham Museum's Giant Attic Treasures Vintage Sale. Shoppers will discover a treasure trove of household decor like furniture, rugs, china, and silver setting pieces. Regarded as one of the best rummage sales on the North Shore, shoppers will find the best deals on vintage fashions, gently used clothing, costume jewelry, fabrics, records, prints, frames, and many more collectibles and maybe a painting or rare book. New treasures will be displayed daily.
Proceeds of this event will directly benefit the museum's educational exhibitions and programming. Wenham Museum is a section 501(C) (3) non-profit organization. Wenham Museum is a family-friendly history museum exploring how we have lived, worked, dressed, and played from the 17th century to today. The museum features the Claflin-Richard House c.1690, a world-renowned doll collection, dollhouses, costumes and textiles, model trains, toys, historic photographs, the interactive Family Discovery Gallery as well as special exhibits. Rotating special exhibitions highlight the museum's mission.
Museum hours are Tuesday through Sunday, 10 AM to 4 PM. Admission is $8 for adults, and $6 for children ages 1+.
When:
Saturday, April 9, 2016 10am-4pm
Sunday, April 10, 2016 10am-4pm