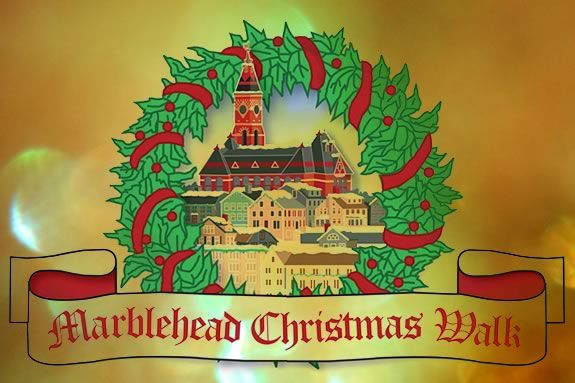 The Marblehead Chamber of Commerce invites you to Marblehead to enjoy four days of holiday festivities, family events and activities!  Come for one or all four days with highlights that include Santa's arrival by lobster boat, the town tree lighting ceremony, Holiday shopping preview parties, the Christmas Walk Parade, 'Holidays are Grand' live performances, a great raffle with great prizes, and all kinds of family events and activities sponsored by local merchants and organizations!
The Marblehead Christmas Walk is a signature event that captures the warmth of Christmas throughout town. This is a time when Marblehead's Historic charm shines bright and the festive spirit of the holidays provide a truly enchanting experience. Now in its 45th year, more than 80 local businesses and stores will bring residents and visitors alike the most spectacular Christmas Walk ever, and welcome you to "Shop at the Store with a Star on the Door".
The Christmas Walk's focus this year is on local school groups and other performers through the town. Delight in shopping, sipping, and munching as you hear joyous Christmas Carols, meet Santa, relish story time, participate in holiday crafts for kids, engage in lively raffles and an abundance of holiday cheer. There will be more than 100 events going on throughout town. During this season, we are excited to be celebrating the "Stars Among Us" – the amazing residents, businesses, community leaders and teachers who make Marblehead such a magical town.
Schedule for this year's Christmas Walk!
To enter the 'Keep It Local' Raffle with a chance to win an iPad, a palystation or an Apple watch and other great stuff click here!  Remember to 'Shop at the Store with the Flag by the Door'!
Find Magic the Elf in participating retail stores and win prizes, enjoy entertainment all weekend long, meet Santa and Mrs. Claus and get into the holiday spirit as you enjoy activities, entertainment, and fun for all.
Enjoy FREE parking throughout Marblehead all weekend, but please still be mindful of the no parking zones around town.
When:
Thursday, December 3 - Sunday, December 6, 2015