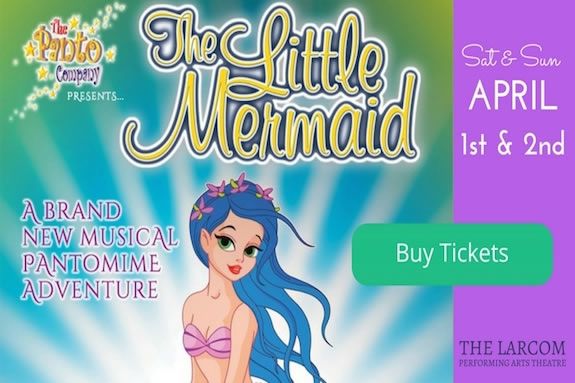 The Little Mermaid - The beloved tale of The Little Mermaid is brought to the stage in a brand new production following a sell-out tour of China and the U.K. The Panto Company presents their adaptation of this classic Hans Christian Anderson's story to the stage in a fantastic, funny and exciting interactive show full of singing and dancing. The performance duration is approximately 60 minutes with one intermission.
DOORS open one hour before the performance start time.
The Larcom Theatre built in 1912, the same year as Fenway Park is a handsome and lovingly restored 560-seat theatre offering both stage and screen entertainment in downtown Beverly's central art district. The Larcom is rich with elegance and boasts many original features.  Known for its spectacular acoustics, the intimate venue has boasted the presence of Pulitzer Prize-winning author of Angela's Ashes, Frank McCourt; iconic folk rock singer Art Garfunkel; and Grammy Award-winning singer-songwriter Booker T. Jones. The Larcom currently hosts local talent, nationally renowned, award-winning stars, and municipal and corporate events.
When:
Saturday, April 1, 2017 at 10AM and 1PM
Sunday, April 2, 2017 at 11AM and 2PM