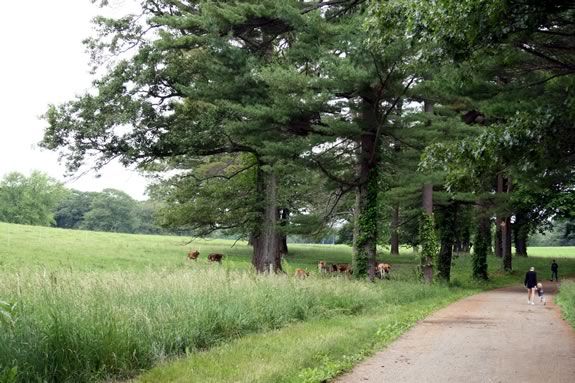 Join longtime volunteers Katrina and Susan to delve into the history of this magnificent working landscape.  You'll learn how the Appleton family worked the farm from 1636 through 1998, while exploring Harvard's Gore Hall granite pinnacles on the property, each dedicated to a different Appleton family member.  
On the September 9th walking tour, you will meet at the Grass Rides parking lot off Highland street and enjoy a leisurely walking tour (1.5 miles) to see the Round Point and Pigeon Hill Pinnacles.  You will learn all about Charles and Frank Jr. Appleton as you wind your way through the beautiful carriage paths designed for equestrian use in the 1800s.  Friendly dogs are welcome to join with their owners for this tour. If you are attending this program you do not need to pay the $5 parking fee.
On the September 30th walking tour, you will meet at the Old House and enjoy a leisurely stroll to see the two pinnalces on the northeast side of the farm at the Prince of Wales Avenue and south of the "New House" site.  Katrina and Susan will describe the lives of Fannie and Frank Sr Appleton and the rich history surrounding this side of the farm.  This walk will be about 1 mile total and dogs are NOT allowed on this side of the farm due to the presence of livestock.
Pre-registration is not required however, nonmembers who want to pay by credit card should call us to pay over the phone.  Nonmembers who want to pay cash or check can pay at the program. RSVP is appreciated to crouillard@thetrustees.org or 978-356-5728 x 4118
When:
Saturday, September 9, 2017 10-11AM
Saturday, September 30, 2017 10-11AM
Prices:
TTOR Members: FREE
Nonmembers: $5