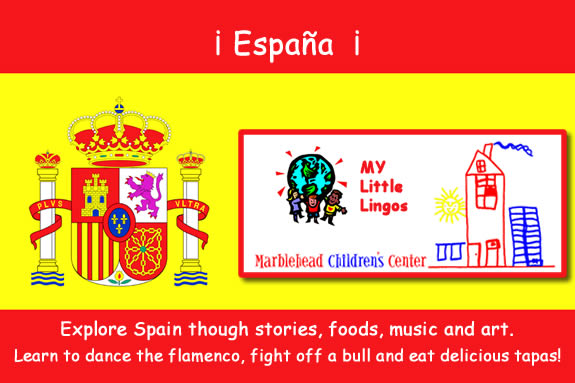 Marblehead Children's Center and My Little Lingos are offering another five week session of Mommy and Me Spanish class for ages 12 months to 4 years. These classes are engaging, interactive and of course, fun!  Meet other parents! The children will play and learn by singing, role-playing, storytelling and creative arts. It is a full language immersion program. The curriculum is play based and the language becomes a lively and captivating experience for everyone.
Please contact Vanessa Evans at 781-639-0068 or MyLittleLingos@gmail.com for more information. Classes will be held at Marblehead Children's Center 21 Tioga Way Marblehead, MA.
Come join us...bring a friend! We would love to see this program grow! 
Marblehead Children's Center has a fall and winter of fun planned for children ages 9 months to school age. This exceptional preschool offers flexible scheduling, highly engaged and qualified teachers and professional staff.
NAEYC accredited program/High Quality curriculum. Marblehead Children's Center has recently received re-accreditation from NAEYC. The National Association of Education for the Young Child is an agency which does a comprehensive study of Early Childhood programs across the nation. In order to be accredited by NAEYC the center must maintain certain criteria and meet the standards of this agency.
Call today to explore the expansive facility including the infant and toddler classrooms, meet the preschool teachers, see the gym and Imagination Blocks, the expansive outdoor play area and learn about the supervised and safe summer programs offered.
Classes will run from Monday, November 18, 2013 to  Monday, December 16, 2013  11:00AM to 11:45AM. Cost $50.00 per session.
Call today to schedule a tour at your convenience - 781-631-1954. 
Here are some of the reasons why Marblehead Children's Center is one of the best family care centers on the North Shore for your summer preschool needs.
Easy access location and convenient, flexible hours.
Highly qualified experience teachers and caregivers with long-term and many years of experience at MCC.
Supervised and safe program for children ages 9 months to school age in air conditioned classrooms.
Easily meets the scheduling needs of busy families.
Special theme days and weeks for extra fun.
Outdoor curriculum and gardening programs.
Water play, Art in the Park, organic gardening, and an expansive outdoor curriculum in the big, beautiful backyard.
Very affordable tuition rates.
"This preschool is not like any other preschool - it's like a second family to our family. The teachers are caring, nurturing, kind and simply wonderful and share a connection with the children. Rosanne the Owner and Gail the Director along with Karen and Mary are always available to discuss any issue and offer guidance. The children are always engaged with projects and bring home artwork and other beautiful crafts they make. They learn a lot of self help skills and manners. During the year they also have a dance teacher, hip hop, Spanish and even yoga as well as an art teacher. I feel my son is safe and well taken care of and he loves it!"  Anne Browne