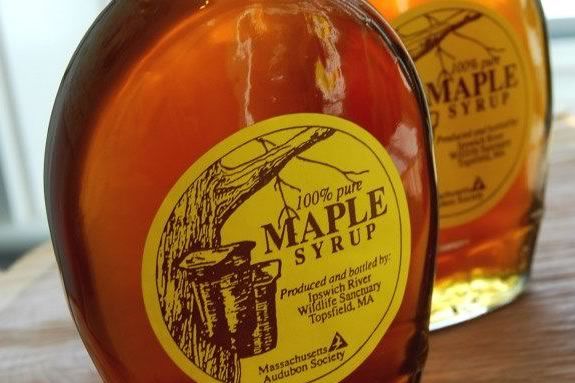 Spring celebrations begin early at the Ipswich River Wildlife Sanctuary with the age-old tradition of maple sugaring. The warm days of late winter awaken the flow of sap in the maples, causing buds to swell and resulting in sweet-smelling billowing clouds of steam rising from the sugarhouse.
On naturalist-guided tours, learn how to identify a sugar maple, observe tapping and sap collection methods, and watch the sap being boiled down in the sugarhouse, where everyone gets a sweet taste of the final product. Afterwards, warm up in the Barn by the woodstove, indulge in a hot dog cooked in maple sap, sample our delicious soup and desserts made by our volunteers, or browse through our gift shop.
IRWS Syrup is available for sale (quantities may be limited).
Tours last about an hour and run rain or shine.
Registration is required.
Dress warmly and wear warm waterproof boots because the walk is entirely outdoors.
Children under three are free and may need to be carried.
When:
Saturdays & Sundays through March 15, 2020 10:30pm-2:30pm
Call Ahead - Multiple Tours Offered Each Day
Prices:
Audubon Members: Adults: $11; Children: $9
Non Members: Adults: $12; Children: $10