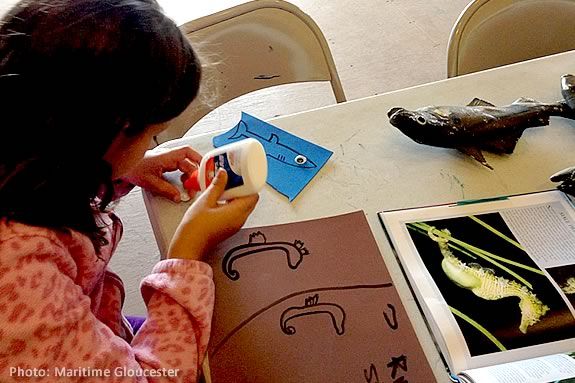 Maritime Gloucester and Cape Ann Art Haven team up to invite kids ages 6-10 to a vacation week session where they will learn about science through making art - part of a week full of educational sessions during April vacation! Check in at Cape Ann Art Haven (180B Main Street, Gloucester) and we will go together to Maritime Gloucester for a sea adventure. After lunch we will make our own sea creatures at Art Haven.
Using our video microscope lab, we'll examine some of the smallest life in the ocean: actual living plankton found right in Gloucester Harbor!  From minuscule shrimp to high-speed copepods, you never know what you'll get in a plankton tow.  Kids will draw and construct the plankton they observe under the microscope, and we'll also look at the structure of local seaweed and construct paper seaweed.  By handling and viewing dry specimens, seashells, and models, kids will get ideas of the different sea creatures that make up a marine food web.  Kids will draw and construct the sea creatures and boats seen in our exhibits in order to complete the food web and show the transfer of energy and how humans are connected to the ocean. 
Prepayment is necessary to hold a spot in this class. Download the registration form, fill it out and then bring or send it to Art Haven 180B Main Street, Gloucester, MA 01930. Call Art Haven at 978-283-3888 for more information.
For kids ages 6-10
Pack your own lunch!
When:
Tuesday, April 16, 2013 9am-3pm
Thursday, April 18, 2013 9am-3pm