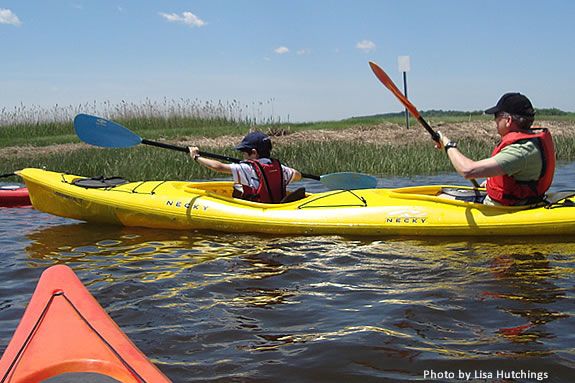 Late spring is a great time to experience on-the-water ecology, and kayaking is the perfect way to capture every moment. From wading birds to waterfowl, the salt marshes provide the backdrop to sights and sounds that are uniquely available from the water. Kayaking quietly on the calm waters of the Plum Island Sound, we'll visit secluded areas where we can witness wildlife without disturbing their activities. We may even see horseshoe crabs mating!
Instruction in kayaking techniques and safety procedures is provided with each program. The fee covers single kayak rental. Subtract $10 per person for double kayak rental and $20 per person if you use your own kayak. Experience Level: Beginner II (no experience required; requires some stamina). Paddling time: 3 hours with intermittent rests.
Open to adults and families with children ages 7 – 12
Children 7-12 must be in double kayak with adult.
Paddling time: 3 hours with intermittent rests.
To prepare for the trip, go to www.plumislandkayak.com and click on 'Planning Your Trip'.
When:
Sunday, June 9, 2013 10am - 2pm
Prices:
Members: $50
Non-Members: $60