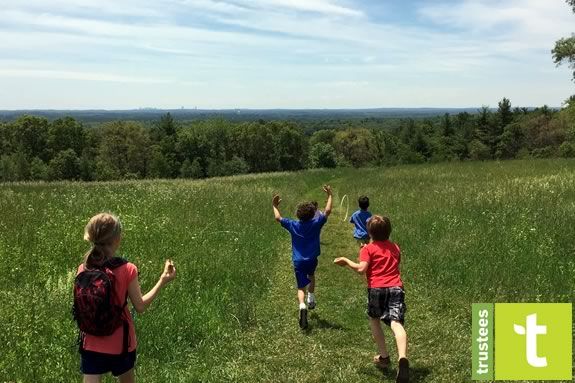 As animals emerge from hibernation and the snow starts to melt, hints of green begin to bud and sprout which can only mean Springtime has arrived. From acorn to tree, sprout to fern, and spore to mushroom; the woodland forest is a revolving world of new plant species as far as the eye can see.
The Trustees want to bring you beyond the trails to discover the life-cycle of plants, trees, fungi, and a few surprises that might sprout up in-between within the forest. This self-guided outdoor activity trail bundle will take you beyond the trail to discover the natural plant life-cycles that surround us along the Stevens-to-Stevens trail in North Andover. It is time to get outside, avoid the crowds, and reconnect with nature.
Curious children and their caregivers are invited to discover with this family-friendly outdoor self-guided program. Participants will be emailed an activity bundle to help them look for clues along the trail and work as a team to discover the tiny world beneath their feet and under their nose.
This is a self-guided program. Pre-registration required to receive downloadable bundle of the created activities, including maps, scavenger hunt, crafts, additional reading list and recipes.
The special trail will run from April 17th to May 16th. Please use your bundle on any day of your choosing, no need to check in. Face masks are required while on the trail.
When:
Daily through May 16, 2021 9am-5pm
Prices:
Member Family: $4
Nonmember Family: $8