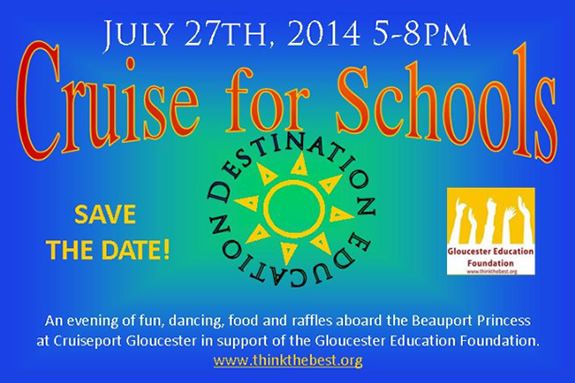 Cruise for Schools on the Beauport Princess – supporting innovation in education in Gloucester Public Schools
The Gloucester Education Foundation's 2014 summer fundraiser, "Cruise for Schools" is coming Sunday, July 27, 2014 from 5-8pm. The event will be a sunset cruise aboard the Beauport Princess, docked at Cruiseport in downtown Gloucester, and will feature live music, including performances by local musicians and musically talented teachers and administrators.
The event will also include raffles and great food, all in support of the GEF's innovative programs in the Gloucester Public School System.
GEF supports everything from field trips to performances, literacy and science school year and summer programs, and even provides funding for school gardens and classroom aids that help our teachers to provide the very best student interaction even in large classrooms. EVERY student in Gloucester Public Schools benefits from the GEF.
Tickets are $75 and include the cruise, appetizers from Vinwood Caterers, live music and assist in the GEF's mission to continue to help students to "Think the Best.
When:
Sunday, July 27, 2014 from 5-8 p.m.