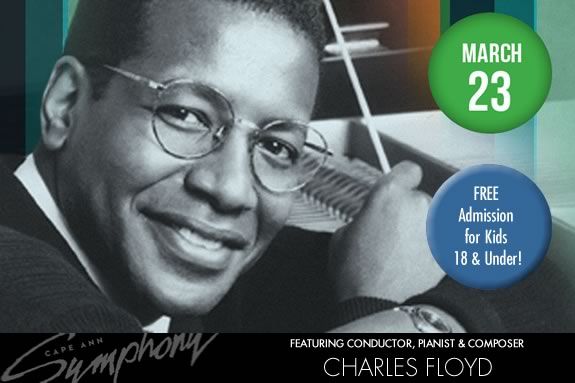 Kids 18 and under are FREE as Cape Ann Symphony celebrates composer, conductor and pianist, Charles Floyd's return to Cape Ann! Highly popular with Cape Ann concert goers, Mr. Floyd has been heard in concert with over 500 orchestras. He last performed with the Symphony two seasons ago. Mr. Floyd's compositions range from chamber music to large orchestral and vocal works. Following his appearance here, Maestro Floyd agreed to compose a concerto for piano and orchestra that would be premiered by the Cape Ann Symphony. The program concludes with Dvorak's beloved "New World" Symphony.
There will be a private reception following the concert with Yoichi Udagawa Charles Flloyd. To learn more - Click Here!
Charles Floyd, piano
Born in Chicago, conductor, pianist and composer Charles Floyd began studying piano at age four, gave his first solo recital at age nine, and by age twenty had been heard in solo recital, chamber music and concerto performances throughout the United States and Spain.
When:
Sunday, March 23, 2014 2pm
Prices:
Kids 18 and under FREE
Young Adults (aged 19-24): $22
Adults: $38
Seniors 65+: $33
SPECIAL: Concert & Reception: $80