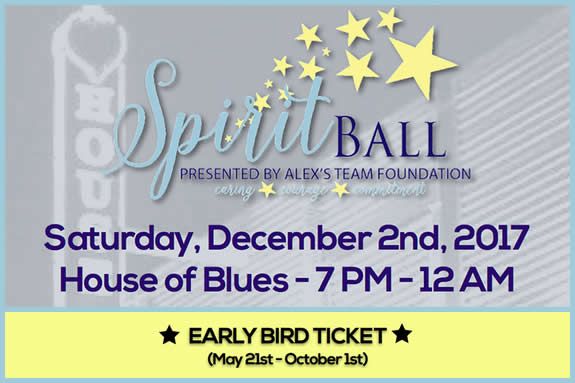 The Alex's Team Foundation is proud to announce that the 4th Annual Spirit Ball will be held on December 2nd at the House of Blues in Boston, Massachusetts.
This signature event celebrates the life of Alexandra Jane Miliotis and memorializes her journey of hope and courage during her battle against Acute Lymphocytic Leukemia. Her angelic smile, positive outlook, and unwavering loyalty to her friends and family has been instilled in the Foundation. As a testament to her strength and courage, the Alex's Team Foundation strives to find unique ways to support childhood cancer research and nursing. The Foundation's motivation lies within the impact they are able to make within the cancer community by providing multiple layers of service-driven support to nursing care staff, doctors and families. Through their flagship programs with Boston Children's Hospital, Harvard University Medical School and the Dana Farber Cancer Institute, Alex's Team Foundation truly believes that the groundwork has been laid to establish a lasting impact on the search to cure childhood cancer and improve the quality of life for patients and their families.
This year's Spirit Ball, taking place from 7:00 pm – 12:00 am at the House of Blues on Lansdowne Street in Boston, will feature a night of live entertainment, delicious food and drinks, as well as the opportunity to support the fight against childhood cancer. Tickets for the event are now available and can be purchased through the Foundation's website, www.alexs-team.org. Currently, tickets are being sold at an "Early Bird" special rate, $50.00 off the at-door admission price. For additional information on the event, tickets or available sponsorship opportunities please visit their website at www.alexs-team.org.
About Alex's Team Foundation:
Alexandra Jane Miliotis packed an inspirational lifetime into sixteen years, four months, and thirteen days. Her journey of hope and courage reached its climax at the Children's Hospital Boston Medical Center on March 15, 2002. The childhood cancer that caused her death, Acute Lymphocytic Leukemia, had been a formidable opponent to this artist and three-sport athlete. Aspiring to carry on Alexandra's spirit of abiding goodness, exemplified in the words "caring, courage and commitment," the many generous and supportive individuals who were touched by her angelic smile and unwavering loyalty to friends and family have established a conduit for this purpose. The "Alex's Team" Foundation, Inc., established in June 2002, shall exist in order to perpetuate the essence of Alexandra's iron will and determination. This organization will, in the spirit of Alexandra's commitment "to be me," encourage others to employ the best in themselves to reach their goals. By supporting the fight against childhood cancer with the same courage, caring, and commitment shown each day by Alexandra, "Alex's Team" looks forward to giving each child a chance to follow a dream.
When:
December 2, 2017 from 7pm to midnight