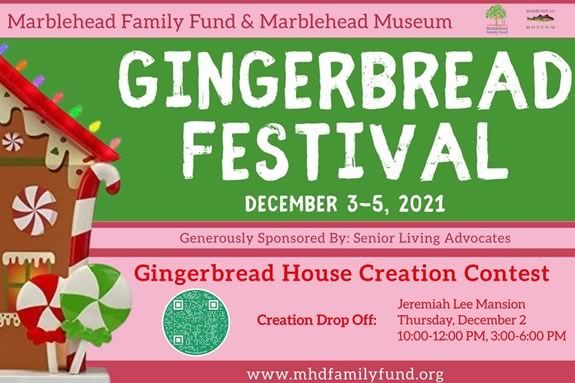 Come see over 100 locally and professionally made gingerbread creations on display at the historic Jeremiah Lee Mansion in Marblehead, MA during this year's Marblehead Christmas Walk. Community members, businesses, and families are building and donating dozens of gingerbread houses, boats and local buildings that will be on display and available for raffle throughout the weekend. Days and times vary so check the times!
Proceeds benefit Marblehead Family Fund and the The Marblehead Museum & Historical Society.
Awards in multiple categories:
Best Under 5
Best Age 6-10
Most Creative
Most Marblehead
Best Classic
Best School
Best Business
Entries can be dropped off on Thursday, December 2, 2021 10am-Noon & 3-6pm
Note from North Shore Kid:  The varied times of and days of this event make it difficult to handle in our platform.  Houses will be on display over the 3 day period (i.e. ranging from 10am - 6pm).  Please make sure to double check the time with the day that you wish to go!
When:
Friday, December 3, 2021 3-6pm
Saturday, December 4, 2021 10am-4 pm
Sunday, December 5, 2021 11am-3pm (Winners drawn at 2 pm)
Entry Drop Off: Thursday, December 2, 2021 10am-Noon & 3-6pm