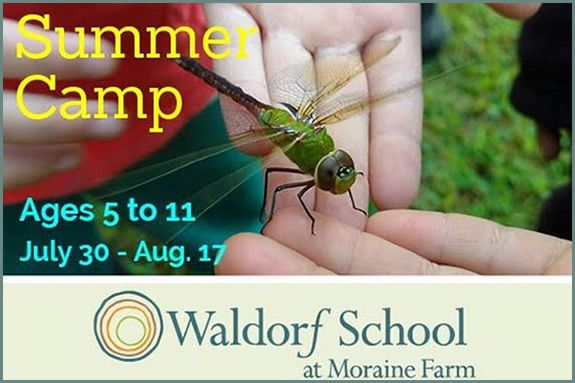 Summer Camp at Waldorf School at Moraine Farm: Transcendent Experiences in Nature
It's About Being a Kid, Learning, Developing Skills, Personal Expressions, Social Development, Connecting with Nature, Friendships.
This year the Waldorf School at Moraine Farm is excited to offer two programs.
​​Little Explorers: Ages 5 and 6
Our Little Explorers camp is lead by Cristan Vineis, Kindergarten Lead Teacher and Mary Mansur (co-lead), former Early Childhood Teacher/Assistant. Little Explorers will enjoy time outdoors doing many activities including: free play, circle games, gardening, crafts, nature walks with snack, play in the woods, adventuring, exploring, discovering. 
Adventure Seekers: Ages 7 to 11
Coleen Ryan, Summer Camp Director and Science in Nature Program Coordinator, will lead the Adventure Seekers Program.
Learn more about the Waldorf School at Moraine Farm Summer Camp program from Camp Director, Coleen Ryan:
This August will mark the seventh summer I have directed camp programs at Waldorf School at Moraine Farm! I am excited to share that this summer we are expanding our program to include camp for the 5-6 year old child. This will be in addition to the 7-11 year old camp we have been offering.

As a young girl I loved attending camp. For me it was an opportunity to just be myself, explore, find adventure, and be creative through art and play, while spending time outside with friends new and old. As I grew older I began working as a counselor, program director and, finally, director. Now each summer I look forward to the three weeks in August when the school's lower field turns into our camp's "base camp."
Author and educator David Sobel wrote in his book Childhood and Nature: Design Principles for Educators about the relationship between nature and children. By watching children interact with nature, Sobel saw seven play principles emerge:
1)    Making forts and special places
2)    Playing hunting and gathering games
3)    Shaping small worlds
4)    Developing friendships with animals
5)    Constructing adventures
6)    Descending into fantasies
7)    Following paths and figuring out shortcuts
Using these principles as design components can be a powerful vehicle for learning and invites the possibility for transcendent experiences in nature. As I start to form the curriculum for this summer I am keeping these principles in mind with a goal of including as many as possible throughout the weeks.
During the camp program we enjoy a balance of activities such as outdoor explorations, creative arts, field games, cooking, and water play. Campers will bring home quality art projects and a handmade journal reflecting the activities of the week. 
Both Summer Camp programs will be offered during the weeks of July 30-August 3, August 6-10 and August 13-17. Cost is $350 per week. There is a 10% discount for siblings, which can be for either age group, 5-6 yrs. or 7-11 yrs.
Register Today for Summer Camp at Waldorf School at Moraine Farm