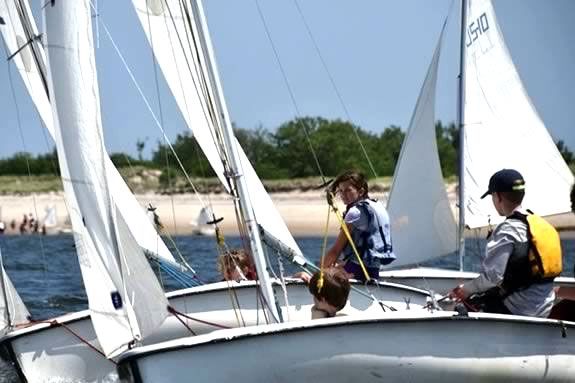 The Ipswich Junior Sailing Program was started by members of the Ipswich Bay Yacht Club who wanted to share their love of sailing with area youth. The program is open to good swimmers who will be between the ages of 8-16 on July 1, 2012. Sailors who have previously completed 420 Racing may continue in the Race Team as long as they meet the age qualifications set for this year's local Junior Olympics Sailing event.
It's primary goals:
To teach sailing and safe boat handling for the young people of Ipswich and surrounding communities
To maintain an air of good fellowship and fun for the participant while maintaining progress toward expected level of competence in sailing
To promote water safety.
The Instructors and Assistant Instructors are certified by the US Sailing Association or equivalent.
Program Boats:
The Optimist Dinghy (Opti) is a small (7 ft 9 in), single-crew sailing dinghy for children up to the age of 15.
The International 420 Class Dinghy is a larger (13 ft 9 in) monohull planing dinghy with centerboard, bermuda rig and center sheeting. It is designed for a crew of two.
There are four two-week sessions, running Monday through Thursday starting the last week of June. Each class runs for 3 hours, either in the morning or afternoon for a total of 24 hours of instruction. You are encouraged to sign up for two two-week classes. This can be two different sessions, or those aged 12 and above have the option to sign up for both morning and afternoon classes in the same session, so you will be at the club from 9:15 to 4:15. Download the brochure or visit the website for a full schedule of classes and other events.
Ipswich Junior Sailing, Inc. is a tax–deductible non-profit organization.
Tuition:
$395 for First 2 Week Class
Additional sessions: $370