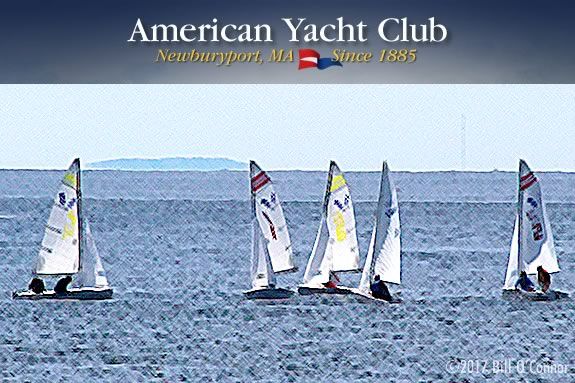 Students may sign up for any number or combination of one week sessions including morning sessions (AM), afternoon sessions (PM), or both (AM & PM).  Skills are built at the student's pace through one session or through multiple sessions over the summer program. This popular program fills up quickly!
The Newburyport Summer Sailing Program uses the "Hunter 140" as a primary training vessel. This boat provides good stability for our basic and intermediate levels of training and have proven to be safe and enjoyable platforms for the beginning sailor. This year we have improved our equipment with new sails and a complete overhaul of each boat. The course size is designed to have 3 sailors per boat.
Each student is provided with U.S.C.G. approved life jacket. Our chase boats are equipped with VHF radios and First Aid kits. Two instructors and a CIT are on the chase boat to assist in learning and organization of the class. The nearest marine emergency service is the US Coast Gaurd Station on the Newburyport waterfront.
Established in 1885, the American Yacht Club is one of the oldest continuously operated yacht clubs in the country. For over 50 years, the AYC has been providing sailing instruction to its members, families and the community. Our professional staff instructors teach children the joy of sailing! Two full-time instructors lead land-based and on-the-water instruction in a curriculum based on the recommended US Sailing Program and adapted for sailing on Joppa Flats and the Merrimack River. There is a minimum requirement of six children to run a session and a maximum of 15 students per session with eight classes offered during July and August.