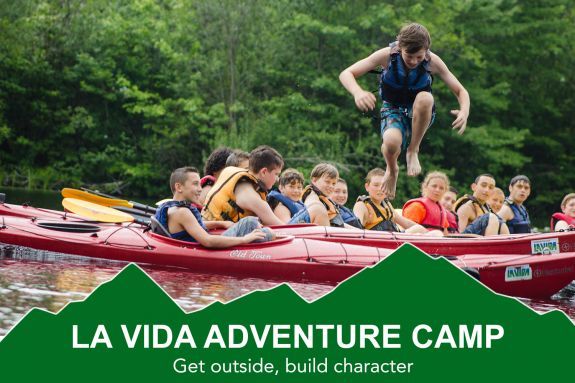 La Vida Adventure Camp provides outdoor adventure experiences in a safe environment that encourages youth to expand their horizons in healthy ways. Our mission is to build character and a positive self-identity. To foster this learning and growth, we use small groups with a high staff-camper ratio, personal discovery, team-building, experiential learning and adventure activities.
Each week-long session is held on the Gordon College campus and is for ages 10-15. Drop off is 9 a.m. and pick up is 4 p.m.
Each camper is placed in a small group of 10-13 kids with two trained counselors and a counselor in training. In addition, activity specialists lead our adventure activities. Staff are past and present Gordon College students along with other carefully selected, trained, caring adults. Counselors in training are high school students that show maturity and a desire to invest in younger campers. Adventure Camp's primary concern is seeing to each camper's physical, emotional, and social needs. For that reason, we limit our camper-to-staff ratio to 5:1 or lower.
Campers enjoy activities including team-building, low and high ropes course, rock climbing, canoeing, and mountain biking. 14- and 15-year-old campers also have an option to do an off-campus experience in the White Mountains of New Hampshire for part of the week. 15- to 18-year-old campers have the option to do a 9–day trip to the Adirondacks in NY.
Evaluations from Past Participants:
"I'm thankful that I had the opportunity to do Adventure Camp because I met a lot of new people and got closer to the people I already knew. I'm also thankful for the counselors because they were just as into the adventure as we were. I think La Vida is important because it exposed me to new experiences and pushed me out of my comfort zone. I truly loved it and wanted to return again the next week." Tober, 2017 Adventure Camp Participant
"I'm thankful that I had the opportunity to do Adventure Camp because I learned a lot of leadership qualities and made new friends. The camp is fun and also teaches great moral values and social skills. Without doing Adventure Camp, I never would have experienced such awesome counselors that were so encouraging." Ethan, 2017 Adventure Camp Participant
2020 Session Dates:
Week 1: June 22–26
Week 2: June 29–July 3
Week 3: July 6–10 (Treks option)
Week 4: July 13–17
Week 5: July 20–24 (Treks option)
Week 6: July 27–31
Week 7: August 3–7
Price:
10-13 Year-old Program: $475
14-15 Year-old On- or Off- Campus: $500
14-15 Year-old Treks Option: $550