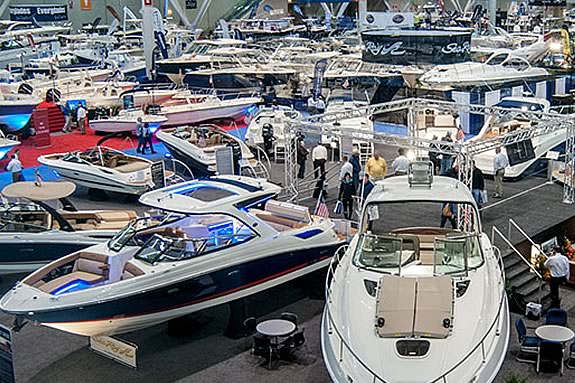 The 2016 Progressive Insurance New England Boat Show invites the winter weary to get a taste of summer as the Boston Convention and Exhibition Center is transformed into a boater's paradise, February 13-21, 2016. Attracting tens of thousands of boating and sailing enthusiasts, Northeast's largest boating event docks for nine-days, featuring hundreds of the newest boats and on-the-water accessories.
More than 300,000 square feet will be filled with the latest boats and nautical equipment – from navigational tools to hardware and galleyware – for all budgets and lifestyles. Visitors can climb aboard luxury motor yachts, sport fishers, performance boats, and personal watercrafts, as well as dozens of sailboats and sailing yachts, rigged and ready to hit the open seas.
In addition to finding the best deals of the season, the Progressive Insurance New England Boat Show offers seminars for DIY boaters, informational clinics for those of all experience levels and hands-on activities for young skippers and families.
A special highlight of the nine-day event will be appearances by famed fisherman Dave Carraro, of National Geographic's Wicked Tuna, who will be signing autographs and meeting fans, Friday, February 28 – Sunday, March 2.
The show also features more than 250 exhibits of the latest in marine accessories to stock up on everything from the newest navigational equipment, hardware and galley-ware for your boat.
Seminars and Informational Clinics
Interactive Displays the kids will enjoy.
Giveaways & Contests
Attend the Progressive Insurance New England Boat Show!
February 13-21, 2016
Boston Convention & Exhibition Center
415 Summer St.
Boston, MA 02210
617-472-1442
Show Hours:
Saturdays 10am–8pm
Sunday, February 14 11am–6pm
Monday – Friday 1pm–9pm
Sunday, February 21  11am–5:30pm
Tickets: Adults $15.00
Children Age 15 years and under Free (when accompanied by an Adult).
Advance tickets can be purchased at http://www.newenglandboatshow.com