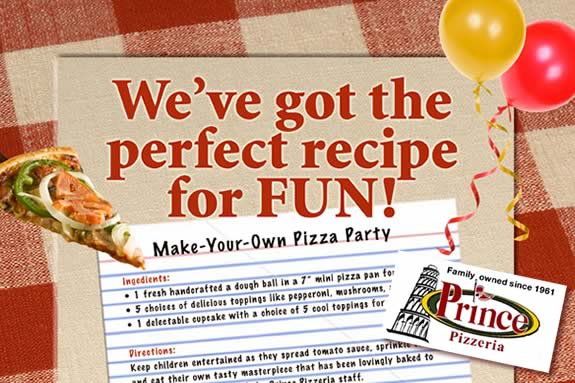 Every kid loves pizza and Prince Pizzeria has the perfect recipe for fun. That's why Prince Pizza has created their 'Make It Yourself' pizza party package! Children can assemble their own cheesy creations with a choice of 5 toppings on a "make your own" mini pizza.
Each child receives:
1 fresh handcrafted dough ball in a 7" mini pizza pan.
5 choices of delicious toppings like pepperoni, mushrooms, and more
1 delectable cupcake with a choice of 5 cool toppings
The kids are engaged and entertained as they spread tomato sauce, sprinkle cheese and eat their own tasty master piece that has been lovingly baked to perfection by a member of the Prince Pizzeria staff.
Finish off the event with scrumptious cupcakes. Chocolate, vanilla or red velvet with a choice of 5 toppings.
Reservations are encouraged! 781-233-9950
Prince Pizza, the landmark restaurant on the southbound side of Route 1 with its iconic Leaning Tower of Pisa overlooking the highway, has opened a take out "Prince To Go" at the former Karl's Sausage Kitchen on the northbound side of the roadway. Simplify dinners - order from the office and pick up dinner on the way home.
The Best Pizzeria of Boston's North Shore. Plan a fundraiser, family function, and the fun, "Make it Yourself Prince Pizza Party".