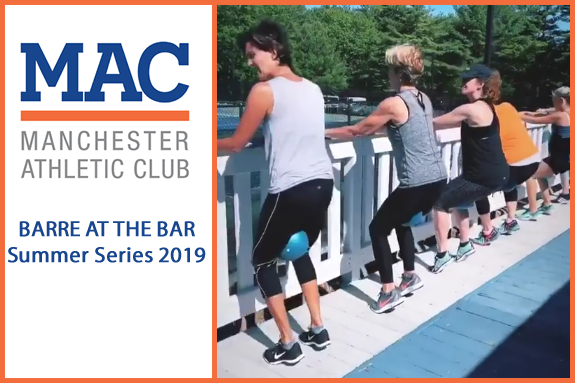 Join us for a series of poolside barre classes from 6:00 - 7:00 PM on the outdoor pool deck, followed by a social from 7:00 - 8:00 PM!
Thursday, July 11th - Sign up starts July 1st
Thursday, July 25th - Sign up starts July 15th
$20 Per Person, Per Class
Open to members + the community
Bring a friend!
Cost includes fee for class, (1) glass of wine or beverage of choice, appetizers, raffle ticket and goody bag!
Sign up through the app or at the front desk, up to 10 days prior to the event. 978-526-8900
- Class limited to 15 participants
- Participants can purchase additional glasses of
wine after glass included in cost of event
- Fee for event charged at time of sign-up,
- Cancel up to 48 hours for full refund
- Participants may register for one or all classes
This is a body sculpting class like no other. Results are achieved using small isometric movements at the ballet barre. There is plenty of abdominal work throughout. The combination will tone and strengthen the booty, thighs, arms, back and enhance overall core strength.
The music is amazing and it will keep you motivated. If you want to create a long lean body, gain flexibility and core strength this is the class you have been waiting for.