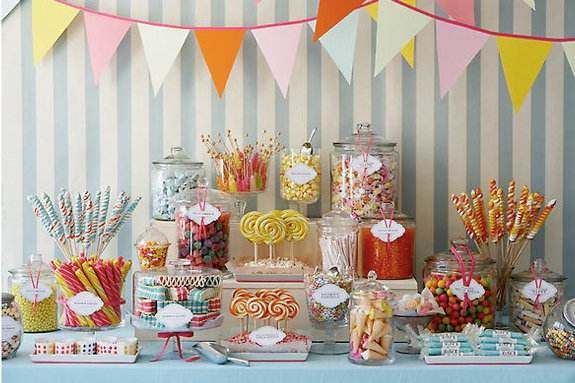 The dessert buffet and candy bars are becoming a trend at weddings, baby showers, sweet sixteen, corporate events, galas, and many other social events and will to leave a lasting impression that will be forever remembered by your guests.
Dessert tables are so much fun to create, so I've listed a few tips and vendors to help get you started.
Set up your table the day before your event, so they day of the event, you just have to place the candy in the vessels and set out the desserts.
The backdrop was the most challenging part of the table for me. To create a nice backdrop for a wall behind your dessert table start by using foam board or the sturdier Gator board. Foam board is less expensive and is fine for a one-time event and Gator board can be used again and again. Attach wallpaper, custom designed paper, or fabric with spray mount to adhere paper to the board; stretch the paper or fabric even and taught, then pin it against the board. To give the backdrop a nice finished look, use ribbon as a border, especially a nice solid fabric. Pay close attention to the size of the backdrop as most fabrics come 54 inches wide. Let the fabric or paper dictate the measurements and plan to seam the fabric together if needed.
Listed are affordable candy vendors known for reliability, freshness and promptness. They properly package their shipments for hot or cold weather and remember that shipping does add up when heavy candy is being shipped, no matter where you buy from.
If you find great vendors or suppliers around Boston or north of Boston, please send me a note and I'll include them in the list.
Cake and Bake complete source for supplies
Fudge, Carmels, Candy Apples and more
Candy Buffet Vessels and Apothecary Jars
Candy Jars, Vessels and Candy Scoops
A large variety of picks and straws
Picks and Straws and loads of other dessert buffet supplies
Lanterns, lights, parasols, candle holders, decorations and many other supplies
Cake, candy, cookie, pie, baking products, and more than 30,000 of supplies