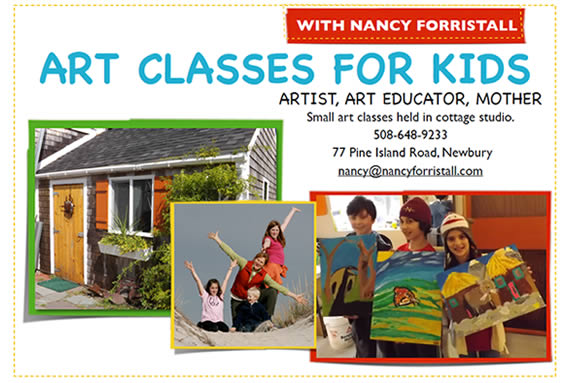 Children ages ages 8-14 can sign up for an exuberant art session with Nancy Forristall at her Pine Island studio in Newbury, beginning September 19th.
With a limit of 5 students per session, the outstanding student/teacher ratio promotes the individual development of each student, provides a nurturing and engaging experience that builds the foundation for a life-long love of creating art. Nancy encourages her student's natural sense of curiosity, exploration, play and joy.
"At dinner we ask the kids what their favorite part of the day was and on days they spend in art class with Nancy, all 3 report that their time with her is the best part of the day, by far" - J. Field - mother of 4.
Class Schedule  (limit 5)
Monday 3:30 - 5 p.m.

8 weeks $290 includes supplies and snacks

Tuesday 3:30 - 5 p.m

9 weeks $320 includes supplies and snacks

Wednesday 3:30 - 5 p.m

9 weeks  $320 includes supplies and snacks

Thursday 3:30 - 5 p.m.

9 weeks $320 includes supplies and snacks
This session to include drawing, painting, clay and print making. 
"We had three full lively classes last session. We made piñatas masks, painted with acrylics on canvas, craypas, clay and scratch art."
Nancy is a graduate of the School of the Museum of Fine art and has a Bachelor in Education from Tufts University. 
Kids enjoy small classes, with plenty of individual attention and room for exploration.
Sign up today for the next session beginning September 19th.