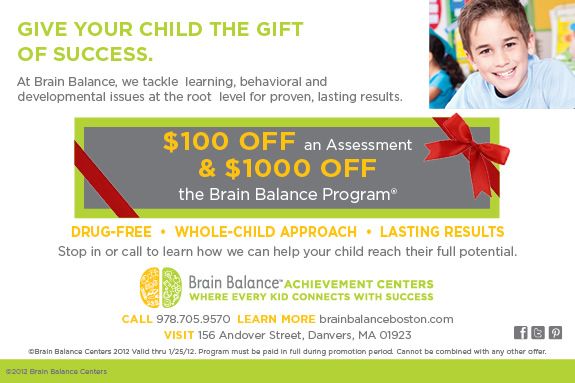 I like that Brain Balance Achievement Center of Danvers has brain-based solutions for children's challenges, not drug based. By integrating physical and cognitive exercises with dietary change, they are able to correct brain imbalance, improve function and reduce/eliminate negative behaviors.
The Brain Balance Achievement Center of Danvers is proud to host a free workshop on Thursday, December 6, 2012 at the Danvers Center. The event will offer a tour of the Brain Balance Center, followed by an informative presentation and a question and answer discussion lead by Dr. Steven Bromberg, the Executive Director. Refreshments and hors d'oeuvre will be served.
If you have children or if you work with them, this is an informative event not to be missed.
RSVP to Sonya or Laura - Space is limited. To reserve a seat please RSVP before December 3rd by calling Sonya or Laura at 978.705.9570.
Parents and Professionals who want to learn more about Brain Balance are encouraged to attend.
Brain Balance Center in Danvers was established by Dr. Bromberg, for the remediation of children with neurological disorders in the spectrum of ADHD to autism to Tourette's Syndrome by applying the principles of neuroplasticity to correct desynchronization and disconnectivity within the brain.
When:
Thursday, December 6, 2012 from 6:30 p.m. to 8:30 p.m.