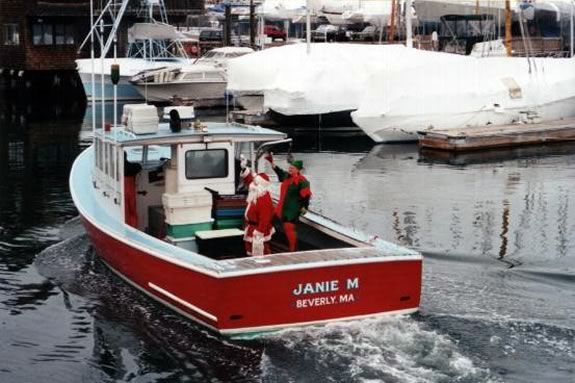 Santa Claus is packing his boat, checking his charts and heading for Beverly and the site of Washington's Naval Base. The seaborne Santa will arrive by lobster boat at the Ferryway Public Landing by the Veterans Memorial Bridge and the Public pier rain, snow or shine.
He will greet and talk to boys and girls who have been very good all year and will hand out candy canes and hot chocolate. Most importantly, Santa will be taking children's last minute requests for Christmas.
The Beverly Lobster Fleet, Beverly Harbormaster Department sponsors the event.
Santa will arrive aboard the "Janie M" captained by Michael Malewicki. His boat and others serving as escort will be decorated for the occasion. This is the ninth year in a row that the jolly gentleman will make a brief visit to Beverly with helpers from Beverly's extensive marine community.
Tell all your friends and bring the family. This is an event you will not want to miss!
When:
Saturday, December 16, 2017 2:30pm