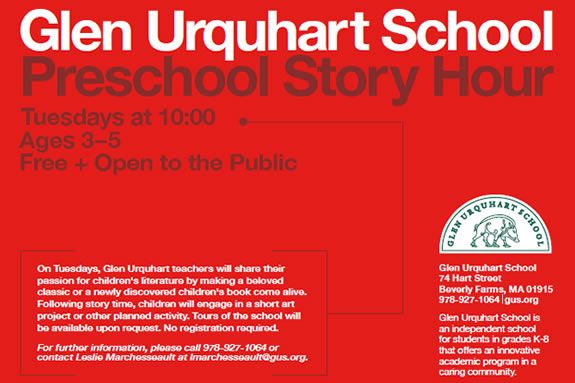 Glen Urquhart School welcomes Preschoolers this season. Children will enjoy the free Story Hour on Tuesdays for ages 3 - 5 years in the Glen Urquhart School Lower School Library.
Free and open to the public. Drop-ins are welcome.
Each Tuesday, Glen Urquhart teachers will share their passion for children's literature by making a beloved classic or a newly discovered children's book come alive. Following story time, children will engage in a short art project or other planned activity.
Tours of the school will be available upon request.
No registration required.
For further information, please call 978-927-1064 or contact Leslie Marchesseault lmarchesseault@gus.org
Tuesdays 10:00 am
Ages 3 to 5 years
Glen Urquhart Library
Contact Kelly Rostad at krostad@gus.org or 978-927-1064 ext. 134 to register.
Drop-ins are welcome.