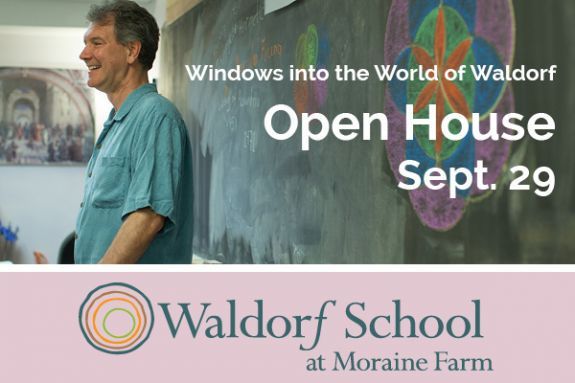 On Saturday, September 29, 2018 from 10 a.m. to 1 p.m., Waldorf School at Moraine Farm in Beverly invites you to an Open House where visitors will experience the value of Waldorf education for themselves.
Parents have numerous options here on the North Shore which is why it's so important for families to make the most informed decision they can about their children's educations and futures. How well a child performs and learns in school now has lasting effects on their high school, college and life experiences as well.
The upcoming event, Windows Into the World of Waldorf, is an excellent way for families to experience what a Waldorf education offers, how a child learns in a Waldorf environment, and how Waldorf School at Moraine Farm differentiates from all other public and private schools in the area.
Visitors may choose from a series of 30-minute classes in Math, Science, German, Handwork, Strings, Cyber Civics, Nursery and Kindergarten classes, specific to a range of grade levels. While in class, experience what it's like to be taught in the Waldorf method and see how engaging it is to be a student at the school.
Experience how Waldorf's time-tested approach to education promotes a learning environment that allows for self-discovery, creative problem solving and high achievement.
So that we are able to coordinate your classroom experience, please RSVP here.
Learn more about this Open House.
About Waldorf School at Moraine Farm
Waldorf School at Moraine Farm is one of 121 Waldorf schools in the United States and nearly 1,000 Waldorf schools worldwide.
Waldorf School at Moraine Farm is an independent, non-profit school founded in 1986. The school is located on ten acres of the historic Moraine Farm property in Beverly. It serves approximately 110 students from pre-kindergarten to eighth grade. The school has open enrollment year around.
Children in grades one through eight participate in several subject classes, including Physical Education, Music (Strings and Orchestra), Handwork, Science in Nature, and German. Our Early Childhood program includes kindergarten, nursery, and parent-child classes.
The mission of Waldorf School at Moraine Farm is to help students discover and develop their individual capacities and build self-confidence, so that they can fully engage in the world and contribute meaningfully to society.
To learn more about the Waldorf School at Moraine Farm, visit www.waldorfmoraine.org or call 978.927.8811.
When:
Saturday, September 29, 2018 from 10am to 1pm.